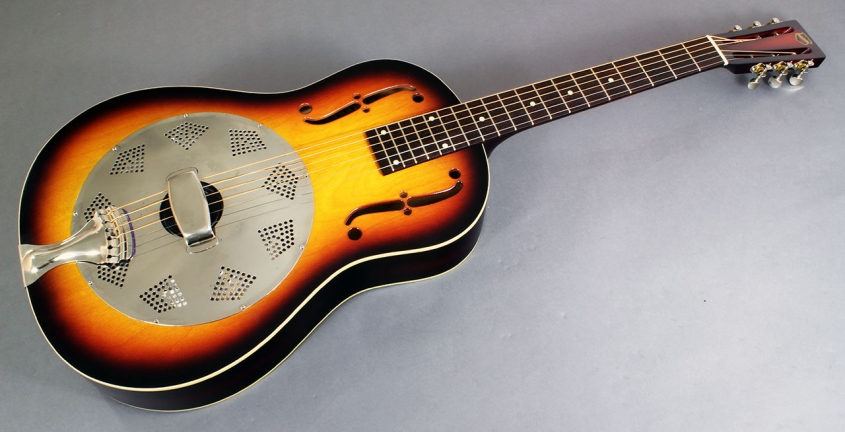 Serial Number
252, built February 1992 in San Luis Opisbo, California, USA.
Pricing
$1249 CND with case. SOLD
Neck
Maple neck with unbound rosewood fingerboard. This instrument features a 12-fret neck, so the neck joins the body at the 12th fret.
Frets
12 frets to the body, 19 frets total. Medium fretwire with very little wear.
Body
Maple laminate body.
Finish
Tobacco sunburst lacquer stained finish, with a few small dings and wear marks. The guitar has been played, and its tone makes that clear!
Hardware/electronics
Grover Sta-Tite tuners, National single cone with nickel plating.
Playability/Action
Plays well. This is set to a standard fingerstyle action, and we're happy to set the action to the needs of the player's style.
Case
National case included.
Comments
The National Jazz Blues model was built for a short time in the early days at National Resophonic. The design was very successful tonally and arguably the best sounding wood body available in the early 1990s.

It quickly evolved into other models; and became the Estralita, then later the Estralita Deluxe which remains the most popular wood body National over the past decade.

At 20 years old, the tone and volume on this superb instrument clearly equals or exceeds any of the 50 or 60 new ResoPhonic guitars we have in stock. It has very much the timbre and voice we hear in the Estralita Deluxe but a little fuller and louder than any of the new ones we have. This is most likely due to 20 years of playing on the cone as National biscuit cones do have a "break in" period of several hundred hours of playing before they reach their maximum bass response potential.

At the moment it is setup for a mix of fingerstyle and bottle neck; we would be happy to raise or lower the action to suit the buyer.