Project Instruments – Restoration projects for the home hobbyist and aspiring amateur Luthier
Please note – everything listed below is now sold.
From time to time, I am forced to "house clean" when I run short on storage space. Since I can't resist buying any vintage instruments things eventually reach the breaking point where I have to 'thin the herd'.
These 'project instruments' are put on a shelf with the best of intentions…but many cups of espresso later I come to the realization that I would rather be out on my motorcycle and many of these projects will simply never be looked at. Many I've entirely forgotten actually buying; this may be the result of too much exposure to Nitrocellulose lacquer.
I see most of these instruments as the musical equivalent of the legendary 'barn find' motorcycle — all have great potential to be restored and make music for another 100 years. But, require many hours of bench-time to do so — hours I don't seem to have available because, in theory, 'I have a life' outside of The Twelfth Fret.
So:
For the serious home hobbyist with advanced wood working skills, here are some excellent 'project-instruments'. All have potential to be played and enjoyed and/or eventually sold off to raise funds for your next 'project'.
1) Imperial guitar: built circa 1890. SOLD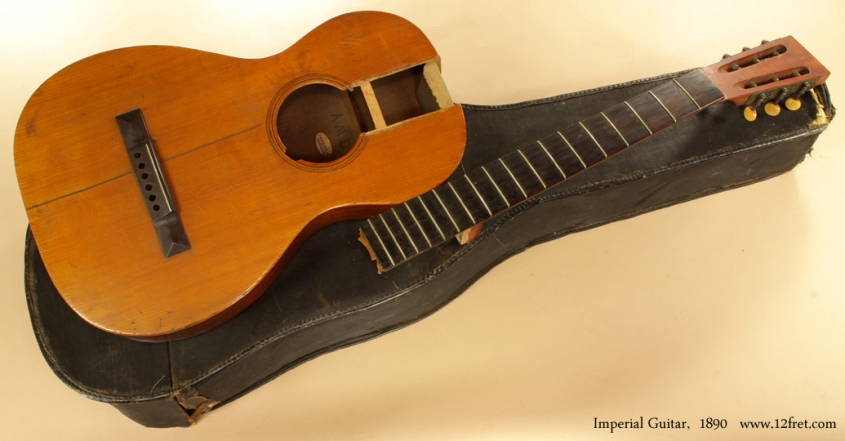 Adirondack spruce top, Honduras mahogany back, sides. Rosewood fretboard, early generation of tang-frets. My guess is that the neck is maple or birch. The tuners are original and arguably worth more than the guitar.
Neck needs to be refitted and reset plus needs bone nut and long crack in the back needs to be glued and cleated. Comes with very worn Trapdoor original case.
Details on these rare Imperial guitars can be found here.
"Another Ditson-related guitar manufacturer and distributor was the John Church Company. Ditson's Cincinnati branch, launched in 1860, was sold to its founder, John Church, in 1871 and renamed. Church's small instrument manufacturing arm built guitars that were sold under the Imperial brand. In 1891, Church introduced a new model of Imperial guitar incorporating a bridge and tailpiece combination intended for steel strings, patented by one Charles F. Geiger, which may be the first guitar to be advertised as built specifically for steel strings."
Price: $200.00 SOLD
2) English Mando-banjo built circa 1925.
one can quickly recognize English banjos by the 'flower pot' or wood bowl system that they use for the banjo pot (the body of the banjo). Typically they dropped the entire system — head, tone ring, tension hoop and hooks, into a wood bowl. In the 1920s and 30s mandolin necks were commonly fitted to banjo pots. These so-called Banjolins or Mando-banjos were very popular because they are incredibly loud instruments
Most of the time, due to the lack of an adjustable truss rod and the high tension strings, these older instruments have terribly warped necks: This particular one is certainly the exception: the neck is dead straight. Tuners and all hardware are intact and original. It needs a new calfskin head, a fret dress and polish and a thorough setup. Basic goatskin heads run $21 and deluxe top grade, true calfskin heads are $65. Lots of on-line tutorials on installing calfskin heads.
Price: $130.00 SOLD
3) Comet Banjo, built circa 1890 SOLD

This interesting banjo is not "all there"; one tension hook and two hook nuts are missing plus it needs a tension hoop, bone nut, new calfskin head and old style wood or bone friction tuners. There is a section of the fretboard missing from the first fret to the nut that can be easily fitted with a new scrap of rosewood. the finish is very dark and smoky but I'm going to stick out my neck and call the neck American Black Walnut with rosewood fretboard. The 10 3/4″ rim is a spun-over-brass rim on maple. The neck is a V profile and surprisingly, the neck is straight. The two most interesting features are the Comet brand badge on the fretboard with engraved starlets on a bone background and special note regarding the Patented 1887 A.G. Wood tailpiece.
See these images here
Price: $100.00 with very old but complete duck canvas gig bag. SOLD
4) Washburn guitar: 1897 model 211 serial 239196. SOLD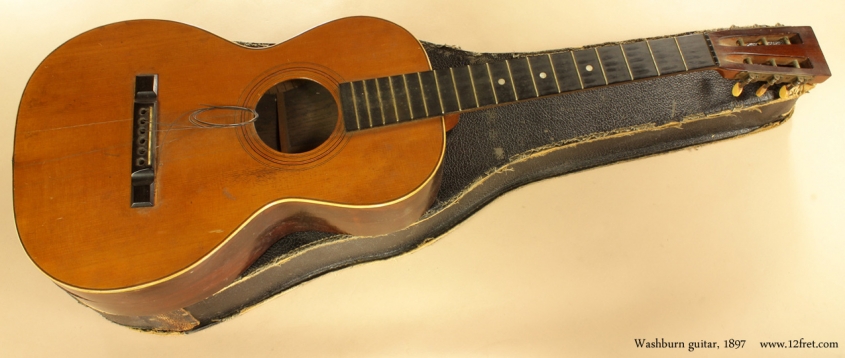 Washburn was a huge supplier of guitars from the 1880s through the 1930s. Unfortunately records are limited and assigning a date can be difficult. This guitar is a model '211' and the number suits roughly 1905 and features all solid woods: Adirondack Spruce top, Brazilian rosewood back and sides, Ebony fretboard on a mahogany neck. Brazilian rosewood overlay on the slotted peghead which has the original fully functional original tuning machines. The bone tuner buttons have a lovely patina.
The finish is entirely original. 4 minor cracks in the top and one full length crack running the length of the treble side. Neck is straight but neck angle is shallow. Since there is no binding on the back, a sensible approach to resetting the neck would be a "back slip" where the heel block section of the back is lifted and reglued with a slight overhang then trimmed off and touched up. Far less labour than steaming off the neck and resetting the neck angle. The guitar is 'all there' and has the potential to be a very playable instrument indeed. Still hast the original Trap door case.
Price: $400 SOLD
5) Williams and Sons 5-string banjo – model Echo Style 25 built circa 1900 SOLD.

Williams Piano company built and marketed a number of mandolins, banjos and guitars as well as pianos. The banjos were Spun-over brass pots produced for them by SS Stewart and I understand the necks were built in-house.
Great potential here for a lovely old time, gut string banjo: Everything important is there: complete pot: tension hoop, flesh hoop and over half of the tension hooks: enough to get it playing and you can search out vintage hooks as needs be after the banjo is complete and playing. The pot needs a calfskin head,. two hardwood wedges for the neck anchor and a no-knot tailpiece.
The neck is straight and frets all there: the dowel stick looks like cherry but the neck looks more like birch with a cherry patina — so I'm going for birch-wood.
The original Ivoroid friction tuners are there but the fifth tuner is gone. You can either fit a new modern 5th tuner or cut down an ebony violin tuner to fit the original 5th string hole.
Price: $250 with original trap door case SOLD
6) B&J Music " The Serenader" model acoustic guitar built circa 1935 SOLD
B & J Music of New York opened its Toronto office in 1931 and still operates here in Canada. Recently the company was taken over by Kaman (Ovation) then by Fender. This venerated musical instrument wholesaler now operates out of Mississauga.
The Serenader model was an economy model sold through department stores and music shops and was a common choice as a first guitar for the working class in the 1930s.
The condition is complete and original. Poplar-wood V-profile neck that is dead straight and fitted with the original "Chicago Musical Instruments" strip-tuners (worth more than the guitar !). Ebonized maple fretboard and brass frets. The frets show no wear but fingernail wear in the fretboard indicated that many hundreds of hours of hurtin' Country & Western music was played on this guitar. I can only assume that the player…the Sarenader if you will…was a real crooner… and perhaps a yodeler to boot !
The body is entirely solid Birch-wood with one minor top crack. The decals and Nitro-lacquer finish is intact and original. The guitar is playable in the first position but if you want to play technical stuff up the neck then a neck reset would be in the cards. Frankly I see this guitar as a first position cowboy guitar and would not consider resetting the neck. I currently have it strung with D'Addario extra lights and it plays well up to the 7th position; at the body it measures 8/64 but as a first position bare-finger-blues or Country/old-time guitar it does the job nicely.
Price: $150.00 SOLD
7) Hoyer Soloist Archtop guitar built circa 1955 SOLD.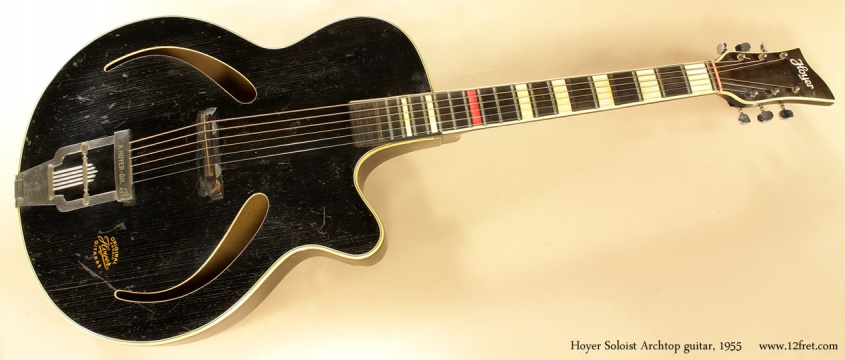 The Hoyer family has been associated with stringed instruments since 1874 but the golden era for Hoyer guitars was the 1950s and 60s when they truly stretched their wings, offering a smorgasbord of imaginative and outlandish archtop guitar designs.
to get a better idea of the variety of models they offered visit this guitar history site here
Rarely seen in North America, this Hoyer Soloist has clearly been heavily played over the years as witnessed by the finish wear on the back of the neck
This is one of THE loudest archtops I've ever heard. The trapeze tailpiece is a work of art, and typical of the over-the-top engineering of Hoyer.
But it is the cats-eye F holes and the red 12 fret inlay block really make it for me.
The guitar is basically all there and plays now in the first position. The tuners have been replaced with Japanese strip tuners. I would install either the Vintage Sta-tite Grovers or the vintage style National strip tuners if I were to restore the guitar.
The neck is maple with an ebony fretboard…several frets are missing. The body appears to be laminate maple back and sides with a pressed german spruce top. Finished in the original Nitrocellulose lacquer with the "original Arnold Hoyer Gitarre" decal intact on the lower bout area.
The neck is the big issue. It is extremely solid and stiff and only slightly overbowed from the nut to the 12 fret. But typical of many archtops, the tag…the suspended portion of the fretboard over the body…has curved upwards. The only way to correct this is to plane and refret the neck. I'm convinced that once this is done that this guitar should play accurately for another 50 years.
No case with this guitar.
Price: $ 350.00 SOLD
---
You can preview our videos now on Our YouTube Channel!
You can now Visit our Facebook page!