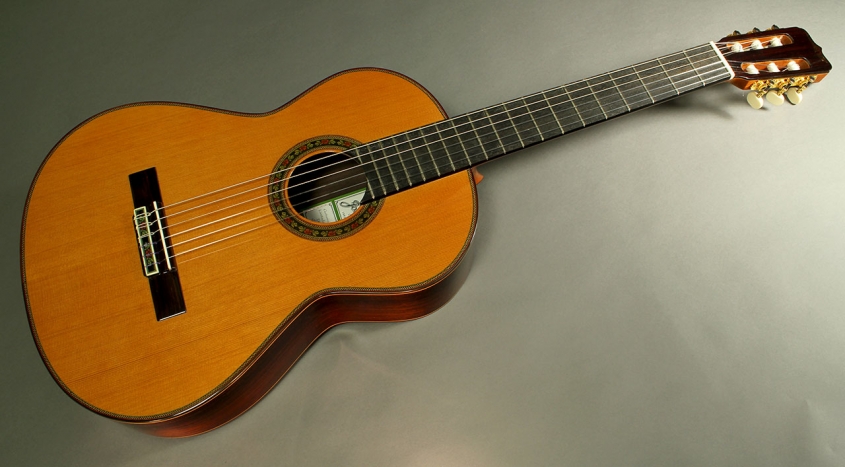 Serial Number
2222 (cedar, built 2011) and 1863 (spruce, built 2010)
Pricing
$1759 CND with original case. SOLD
Neck
Spanish cedar necks with unbound ebony fingerboards. 650mm scale length, 52mm nut width.
Frets
Standard Ramirez frets.
Body
Rosewood sides and back; cedar or spruce top. Rosewood bridge.
Finish
Gloss nitrocellulose lacquer finish.
Hardware/electronics
Gold plated tuners with grained buttons.
Playability/Action
These both play very well and can be adjusted to the player's requirements.
Case
Original Italian-made case included.
Comments
We rarely get Ramírez guitars in the door as trade in guitars. But this week, two incredible Ramírez guitars came in …both traded up to much higher level Concert instruments.Both are very recent construction; one in Spruce top and one in CedarI've looked them over and condition is virtually perfect or "as new" condition. The finish is mint and no sign of playing wear on the fretboard.Our special price on this is $1759.00 with case. Full setup included.

The Cedar top guitar: serial 2222 would have been built for us in very early 2011.

Currently set up at standard Classical concert action at 8.5/64 treble to 9/64 bass. It has opened up nicely and has that full throaty Ramirez bass response and good balance throughout the treble range.

The Spruce top guitar; serial 1863, was built for us in late 2010.

Currently set up at Classical Concert action at 8.5/64 treble to 9.5/64 bass.

Typical of spruce top guitars, it is crisp and balanced throughout the range. It is virtually unplayed and still not fully opened up. To my ears, it already has slightly fuller bass response than most spruce top 125th models I have seen so the guitar has great potential indeed. It appears to have not been played at all !!

To read more about these incredible guitars, designed by Amalia Ramírez, see our site here.

We will do any setup adjustments the purchaser requires at no extra cost.

If you are playing in the Latin jazz style with free-stroke right hand technique and don't anticipate using an aggressive rest stroke, then I would be happy to lower the action before shipping. If you are an aggressive player and use standard classical right hand technique, then you may wish to stay with the current action height.

Currently strung with D'Addario, ProArte Hard Tension strings…our most popular set.

It is a given that we will setup any guitar we sell to suit the player; it is best if you can provide as much information as possible about your playing style so we can make an informed decision on how to setup the guitar
– your right hand picking attack; free stroke vs. rest-stroke
– Classical right hand position vs. Chet or Latin style hand position
– your estimation of your normal action height on your current guitars (low vs. medium or high) – and anything else that will help us to setup your guitar appropriately.

Included is the original Ramirez Italian-made hardshell case.
Some photos of the cedar model:

---
You can preview our videos now on Our YouTube Channel!
You can now Visit our Facebook page!