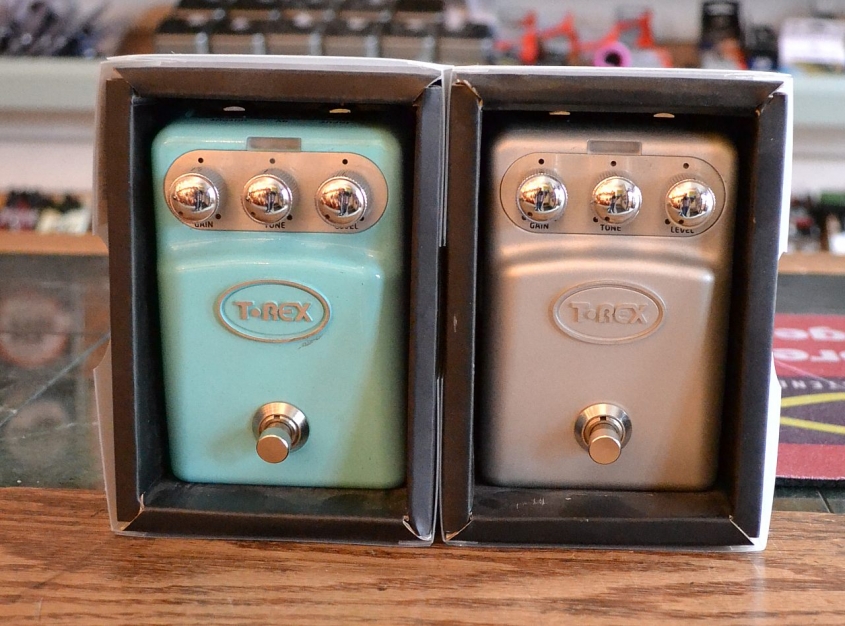 $50 each
Overdrive SOLD OUT
Not distortion. Certainly not fuzz. But overdrive – that almost miraculously warm, saturated sound of one vintage tube amp pushing the next one just a little too hard. It's what the blues are made of. And it's what created rock and roll. In fact, it's the First Foundation of just about every style of guitar playing out there. And now it's yours, with the ToneBug Overdrive.
Simply gorgeous
ToneBug Overdrive is a masterpiece of simplicity, offering just the controls you need to give your sound the unmistakable warm edge that's the hallmark of every guitarist that's ever meant anything to rock and roll. You get a Gain control for setting the amount of overdrive, a Tone control for tuning the timbre of your gain, and Level for making sure your overall volume is right. It's neither more nor less than everything you need.
T-Rex tone
What sets ToneBug Overdrive apart from other pedals out there is this: legendary T-Rex tone. It's the same tone that's made our top-end pedals such a huge success – and a fixture on the pedal boards of a long list of guitar greats (see our website for recent T-Rex sightings). Try ToneBug Overdrive today, and discover the sweetest vintage overdrive you'll ever hear.
Distortion
When guitarists in the early '60s started experimenting with distortion, it took rock music to a whole new level. The earliest attempts were crude, with some guitarists even slitting their amp speakers to get a "fuzzy" sound. But amplifier makers eventually figured out how "overdrive" a main amp with a hot signal from a preamp to bring true distortion to the world of rock.
Simply classic
Tonebug Distortion is a phenomenal-sounding pedal that delivers gobs of rich, tubey-sounding distortion you'll recognise instantly as a fundamental ingredient of classic guitar rock. And it couldn't be easier to use. A simple Gain knob lets you choose how dirty you want to get, while a Tone knob lets you tune the timbre of your distortion – from a muted bluesy crunch to a searing wail that'll slice through anything in its way.
T-Rex tone
Like our ToneBug Reverb and Overdrive pedals, ToneBug Distortion delivers the same legendary T-Rex tone that's made our top-end products a fixture on the pedal boards of guitar greats around the world (see our website for recent T-Rex sightings). That, combined with cool retro design and rugged construction, makes ToneBug Distortion a pedal you just won't want to play without.
Controls
Use the GAIN knob to set the amount of distortion (turn it up for a dirtier sound).
Use the TONE knob to "tune" your distortion to just the right timbre.
Set the overall volume of your distorted sound with the LEVEL knob.

---
You can preview our videos now on Our YouTube Channel!
You can now Visit our Facebook page!