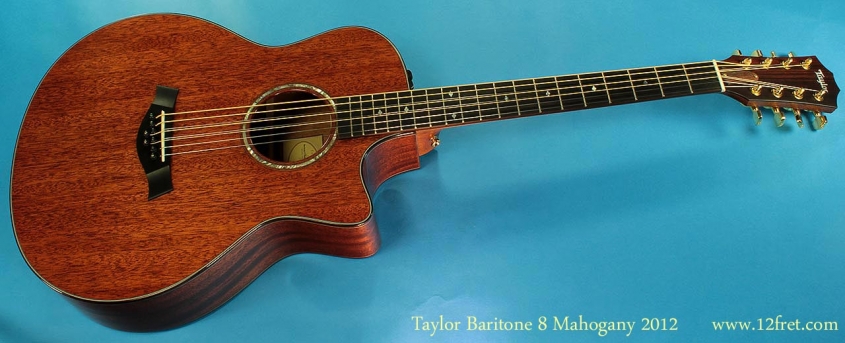 If you are looking for something a little different to broaden your tonal horizons, then the Taylor GS 8 string Baritone is for you! This uniquely voiced instrument features the Taylor Grand Symphony body shape, Mahogany top,  sides and back, 27″ scale length and 8 strings tuned B E A D F# B with additional octave strings on the A and D. This model is also available with spruce or cedar tops and Indian rosewood on the sides and back so you can find just the right tonal voicing.
David Hosler from Taylor's product development team feels the 8 string baritone is a blend of three guitars. "It makes me feel like I'm hearing a 6-string, a bass, and a bit of a 12-string all in one guitar," he says. "It also feels like standard and alternate tunings at the same time." The neck profile is super comfortable and it only took a few minutes of play to get used the the longer scale length. It also sounds really cool when you throw on a capo for a deeper throaty 12-string style tone. Simple classic good looks and innovative design are augmented by the gig ready Taylor Expression System pickup. The unique voicing on this guitar is inspiring and should continue to spark fresh ideas and musical sounds the more you play it!!
Specifications
* Grand Symphony Body
* Mahogany top
* Mahogany sides and back
* Mahogany neck
* Ebony fretboard
* 27″ scale length
* Tuned: B E A D F# B (additional octave strings on the A and D)
* 1 3/4″ nut width
* Low profile neck shape
* Mother of pearl diamond fretboard inlay
* Abalone rosette
* Rosewood binding
* Venetian cutaway
* Taylor Expression system pickup
* Hardshell case
David Jacobs-Strain "Hurricane" Live on a 8 String Mahogany!
---
You can preview our videos now on Our YouTube Channel!
You can now Visit our Facebook page!