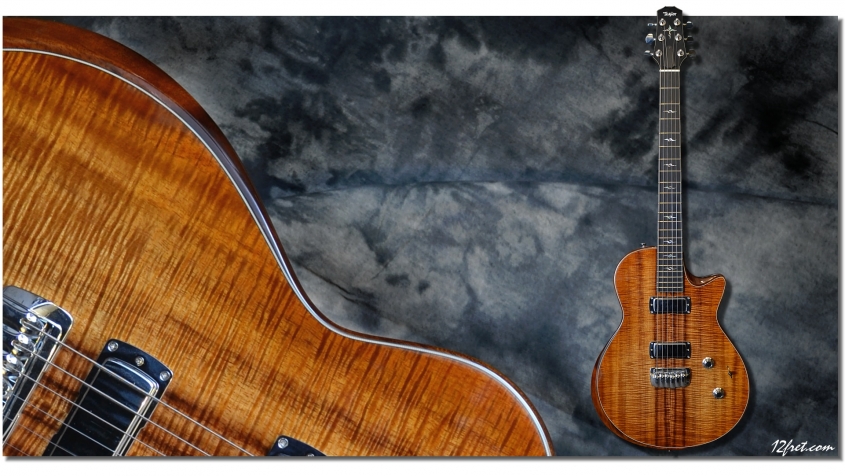 SOLD
Bob Taylor's exotic, heavily figured inset koa  is a wood lover's dream. The high-performance, Taylor Style I humbuckers are a tone lover's dream. Artistic, Mother-of-pear fretboard inlays and on-edge Ivoroid binding around the body and headstock, with micro-purfling up the fretboard, complete the high-end design detail on their new Custom model solidbody electric guitar!
Most electrics either have a hard edge with binding or sleek contouring. Taylor is able to integrate the two in a unique way, because of the way they inset the guitar top into the body. This enables them to define an edge with binding and then contour up to that edge. Their forearm and cutaway contours are comfortable and especially beautiful with elegant binding trim.
Insetting the top also allows them to use gorgeous, exotic woods (like walnut burl used in high-end furniture design or luxury cars) that otherwise can¹t be used on electrics; it would require carving up a thick slab, which would be insanely expensive with woods of this aesthetic value.
Chambering on electric bodies has been used primarily to lighten the body weight. Taylor has applied their acoustic expertise to chambering in order to create the optimal acoustic "bloom." This enhances sustain, which is otherwise hard to create on an electric when everything is locked down.
Even reckless rock 'n' rollers have to respect the "blue spark" effect of getting shocked when grabbing the mic at a venue with improper ground. Bob Taylor designed a fused string ground (wired to the switch plate inside the guitar), so that in the event of faulty ground or funky wiring, the 5-milliamp fuse will fry instead of you. If the fuse blows, your guitar will still play, but it may be susceptible to more noise until you can replace it, which is easy to do, especially since you won't be in the hospital!

Specifications
* Style 1 humbucker design
* proprietary Taylor fully adjustable aluminum bridge
* mahogany neck with T-lock joint
* ebony peghead overlay with pinstripe binding
* ebony fingerboard w/pinstripe binding
* Master Volume & proprietary Tone control circuit
* chambered Sapele body with inset figured Walnut or Koa top
* gloss finish with shaded edge top
* 5-way pickup selector gives
Position 1: Full neck pickup
Position 2: Inside coils of the neck and bridge pickups in parallel (skinny, funky neck tone)
Position 3: Full neck pickup with the inside coil of the bridge pickup (adds fatness and drives the amp a little harder for extra crunch)
Position 4: Inside coil of each pickup in series (creating the effect of a super-wide humbucker and producing a truly unique tone)
Position 5: Full bridge pickup
---
You can preview our videos now on Our YouTube Channel!
You can now Visit our Facebook page!