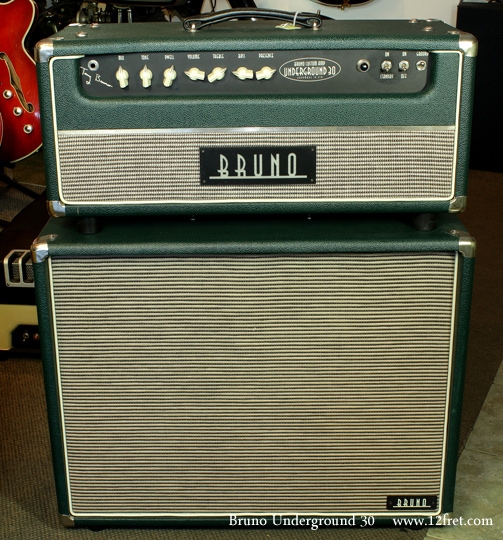 Tony Bruno is regarded as one of the finest amp builders, with a reputation for delivering uncompromising tone, extreme reliability and durability. Bruno amps feature complete point-to-point wiring and the best components available.
Bruno amps were custom built and individually voiced for the customer. Tony Bruno no longer builds, due to health issues; a very few 'new' amps are available from the major Bruno distributors, but generally all available Bruno amps are pre-owned. They are not common.
The Underground 30 was one of Bruno's most successful and popular designs, and was considered to add an American flavour to classic Vox AC30 tonality.
This Tony Bruno Underground 30 Amp With Cabinet was built around 2006; the amp is signed, but has no serial number or date. It's in excellent condition with no scuffing or tears to the green tolex. It does have the 3-knob reverb setup, one of the finest setups you'll find outside of a studio. The amp produces about 36 watts from 4 EL-84 and 3 12AX7 tubes, with a GZ34 rectifier tube. The 2×12 cabinet uses finger joints for stability, and is made of solid pine with a birch baffle.
Here's the Tony Bruno Custom Amps website feature on the Underground 30 amp.
Serial Number: N/A, signed by Tony Bruno; built around 2006.
Pricing: $2,750.00 CAD for amp and cabinet. SOLD
---
You can preview our videos now on Our YouTube Channel!
You can now Visit our Facebook page!