William Laskin Art Deco Steel String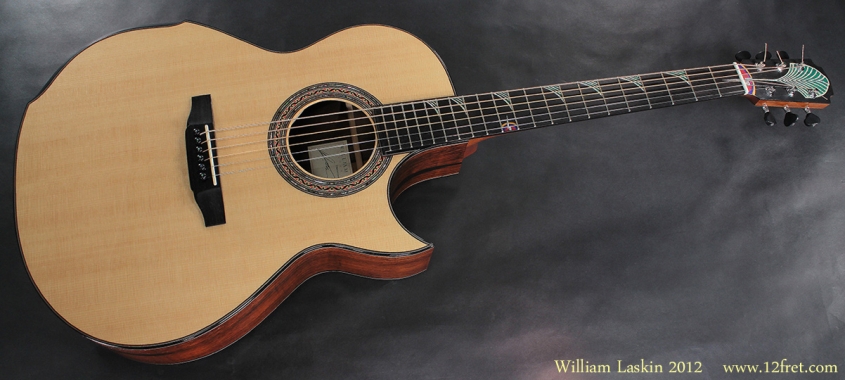 Please note – this guitar sold some time ago, but it was so spectacular that we've decided to keep the posting up. For information on other Laskin guitars we may have in stock, please contact us via the form below.
William "Grit" Laskin is arguably Canada's best known private Luthier. Building continuously since 1971, Grit's guitars have received world-wide recognition and respect.
Grit is particularly well known for his elegant "narrative" inlay work where he often tells a story relating to the dreams, aspirations and achievements of the buyer.
Though he only builds 12 guitars a year, Grit graciously continues to build one guitar annually for the Twelfth Fret. We consider ourselves very fortunate. The last two guitars incorporated my own inlay themes; a misty lake scene just before dawn and another showing two humpback whales just surfacing in the black Bay of Fundy water…my Nova Scotia home.
Each year for the past 20 years or so, Grit generally books the woods and body shape with me in April, firms up the inlay theme in August, then completes the guitar for me at about New Year's Day.
I don't know how he does it, but I find this latest guitar to be the best sounding guitar yet !
incredible harmonic detail in the treble and full, tight bass that sustains forever. Grit agreed with me that it is an extra special guitar; he attributed it to the ancient Brazilian rosewood back and sides.
Whatever he has done…it certainly works ! Fabulous tone and volume !
As usual, we ordered his most popular mid-sized body with cutaway, arm rest and side port.
Features:
| | |
| --- | --- |
| Body: | Mid-size, cutaway w/ Armrest and Side port. Back & Sides: Old growth Brazilian Rosewood. |
| Top: | Premium Sitka Spruce |
| Neck: | Tropical American Mahogany |
| Nut & Saddle: | Bone |
| Strings: | D'Addario Lights |
| Case: | Hoffee carbon fibre custom W/proprietary "Laskin" purple interior |
This year, our approach to the inlay changed from narrative has it has been for years to a decorative Art Deco theme and Grit summarized it for me.
Inlay Art:
This is my original riff on an early 20th Century Art Deco theme. In the headstock, the 'fan' was inspired by some Art Deco period wallpaper.
I blended that with some other curved and 'lightning' shapes, inspired by Deco furniture decoration.
To mark the fret positions, we see a detail section of the fan curve. At the octave we also see an echo of the additional design element from the headstock. This 'echoing' of design is what, for me, brings full symmetry to the concept.
The shell portion of the fan with it's single descending line toward the nut, took most of the time to assemble.
In order that it be cut from one continuous piece of shell, there was much time in the internal cuts not to mention cutting the single lone strand without breakage.
The materials used: Rippled Awabi shell, Mother of Pearl, Malachite, Red Coral, Lapis, Yellow Spiney.
Suggested price: $21240 Canadian dollars with case SOLD!
you can earn more about William Laskin on his web site here
See our previous feature on William Laskin's inlay here
Here is Dave Wren's video tour of William Laskin's shop:

---
You can preview our videos now on Our YouTube Channel!
You can now Visit our Facebook page!