Posts Tagged amplifiers
This Mesa Boogie Recto Verb 50 combo is in great overall condition and sells for $500.
MORE

→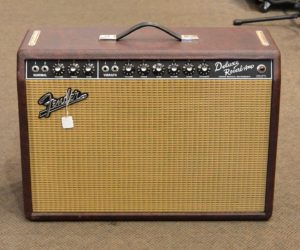 Here is a cool limited wine red Fender Deluxe Reverb from 2011 in excellent condition selling for $875.
MORE

→
The Fender Bandmaster was produced, in various forms, from 1953 to 1974. Output ranged from around 25 watts at first, to 40 watts. Originally a combo, the piggyback head-and cabinet design appeared in 196i, and this configuration is used for most professional grade, higher powered amps to this day.
MORE

→
The SR Technology Bass Fidelity 10 is a new amp featuring one 10″ speaker, a tweeter, 300 watts RMS power output, and a full range of inputs and outputs.
MORE

→
Here is a awesome little 20 watt Class A/B combo from Mesa Boogie! It is in great shape and sells for $650.00
MORE

→
The Soldano SLO100 is the players choice for rock, metal and electric blues. Sells for $2799 and is in great shape!
MORE

→