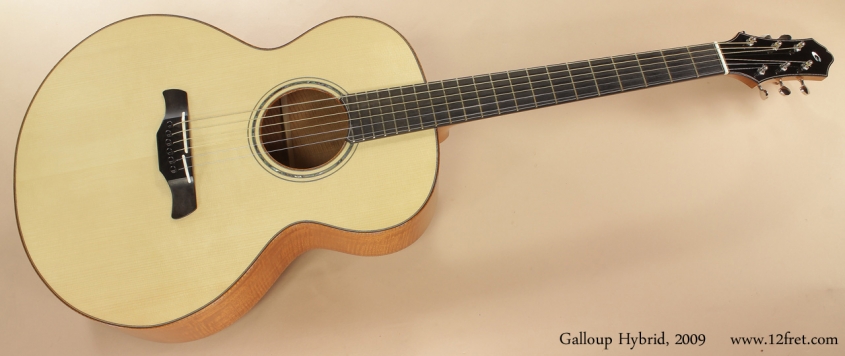 Comments
Bryan Galloup has been repairing and building guitars since 1967, when he apprenticed to Dan Erlewhine at The Guitar Hospital in Big Rapids, Michigan – becoming the owner of the business in 1984. Since then his shop has flourished, doing all manner of repairs and refinishing, and running a lutherie school for several levels of skill – from master builders to technicians.

This 2009 Galloup Hybrid acoustic is a stunning instrument, in pristine condition, featuring top quality woods, very clean construction and great tone. It also uses the patented Feiten tuning system, a combination of nut compensation, saddle placement, and tuning offsets designed to bring as many notes into tune with each other as possible. Many quality tuners now feature Feiten offsets making the final tuning quick and easy.

Serial Number
N/A, but built during 2009 by Bryan Galloup at his shop in Big Rapids, Michigan.
Pricing
$5,250.00 CAD with original hardshell case.
Neck
Mahogany neck with bound ebony fingerboard; 25.5 inch scale length and 1.75 inch nut width.
Frets
No noticeable fret wear.
Body
Galloup 'Hybrid' body design with Adirondack spruce top, figured cuban mahogany back, sides and binding, ebony bridge with 'Feiten' split saddle.
Finish
Original gloss finish in excellent condition.
Hardware/electronics
Waverly tuners, bone nut, split and Feiten compensated bone saddle.
Playability/Action
Plays very well and the Feiten system puts a lot of notes much closer into tune.
Case
Original hardshell, archtop TKL case – green with tooled leather trim.
---
You can preview our videos now on Our YouTube Channel!
You can now Visit our Facebook page!