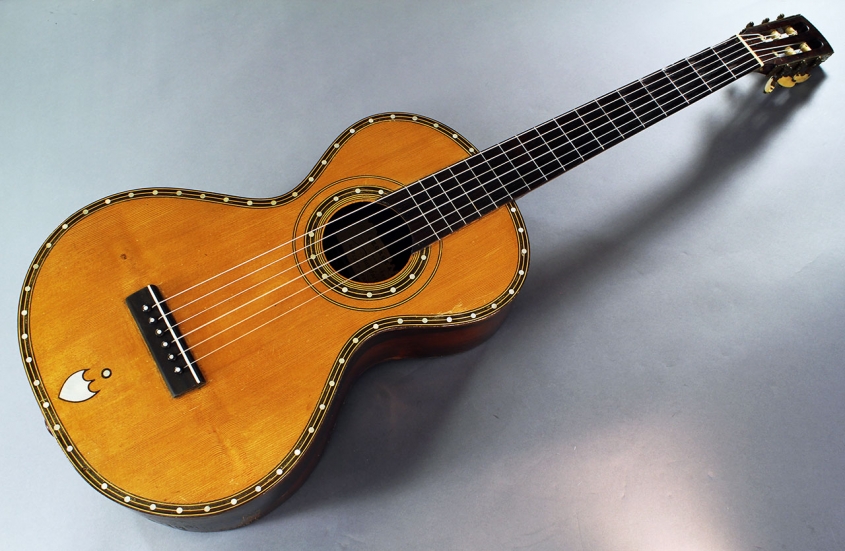 Serial Number
N/A, built in London around 1840.
Pricing
$3295 CDN, no case.
Neck
Mahogany neck, likely Honduran mahogany given the time period; in the photos of the tuners, note the scarf joint at the headstock. The head is a separate piece, and appears to be fitted into a V slot cut into the neck, which then receives an unbound, scalloped, finished brazilian rosewood fingerboard. The scalloping serves a specific function in regards to the frets.
Frets
Mother of Pearl frets: unlike modern fretwire with a tang and bead, this instrument features rectangular strips of mother of pearl inserted into the fingerboard, in much the same way wood inlays would be used when converting a modern fretted electric bass to fretless. Because Mother of Pearl isn't normally used as a wire, the fingerboard has been scalloped so that the inlays are the highest points.
Body
Brazilian Rosewood back and sides, with the insides painted black ('ebonized' was often a term used for this). Solid kerfing, and there is some delamination of the back in spots with evidence of previous repairs. The top is European spruce, with multiple layers of binding and mother of pearl dots around the top and soundhole. Ebony pin bridge using ebony pins with mother of pearl dots. The top features a mother of pearl sheild inlay
Finish
Lacquer or varnish.
Hardware/electronics
Brass strip tuning gear sets, with likely ivory buttons and rollers.
Playability/Action
The neck is straight and the action is no higher than on many classicals. However, some structural repairs should be made to this instrument.
Case
No case.
Comments
This is a very interesting and playable instrument with unique features, but it does need some restoration to stabilize glue failures; given that the instrument is about 170 years old, some maintenance might be expected.

The label reads:
George & Manby
From Clementi's
Manufacturers
85 Fleet Street London

George & Manby were a London publishing firm printing and selling music, and to go along with the music, commissioned the manufacture of instruments, including cabinet pianos, flutes and this guitar.
---
You can preview our videos now on Our YouTube Channel!
You can now Visit our Facebook page!