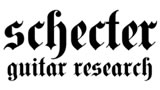 Schecter Guitar Research dates back to 1976, when David Schecter opened his shop in Van Nuys, California to offer custom electric guitar components. Schecter was one of the early suppliers of replacement guitar necks and bodies, complete pickup assemblies, bridges, pickguards, tuners, knobs, potentiometers, and miscellaneous other guitar parts.
Schecter Guitar Research components were well known for their high quality, but by 1983 they had reached the production limit of their custom shop. At this point, a group of Texan investors purchased the company, moved it to Dallas and continued to build on its reputation for quality. They also started offering complete guitars, not just parts. However, due to copyright infringement lawsuits from Fender, production ceased from late 1986 to early 1987.
In 1987, the company was purchased by Hisatake Shibuya, moved back to California and the model line expanded. In 1997, production of some models began in Incheon, South Korea.
In 2012, Schecter expanded their custom shop and launched a new line of USA-built guitars.
Schecter also offers amplification, with models built in the USA and 'Stage' branded models built offshore.
---