Brand:
65 Amps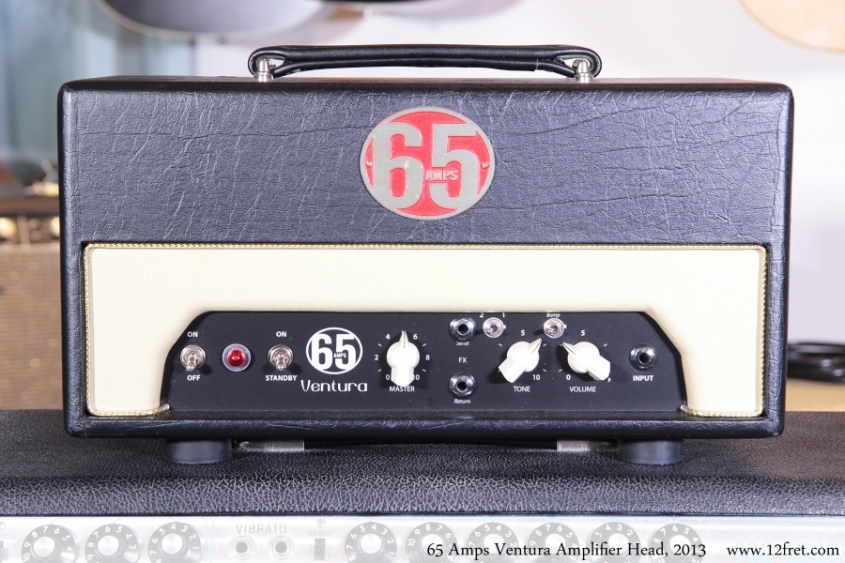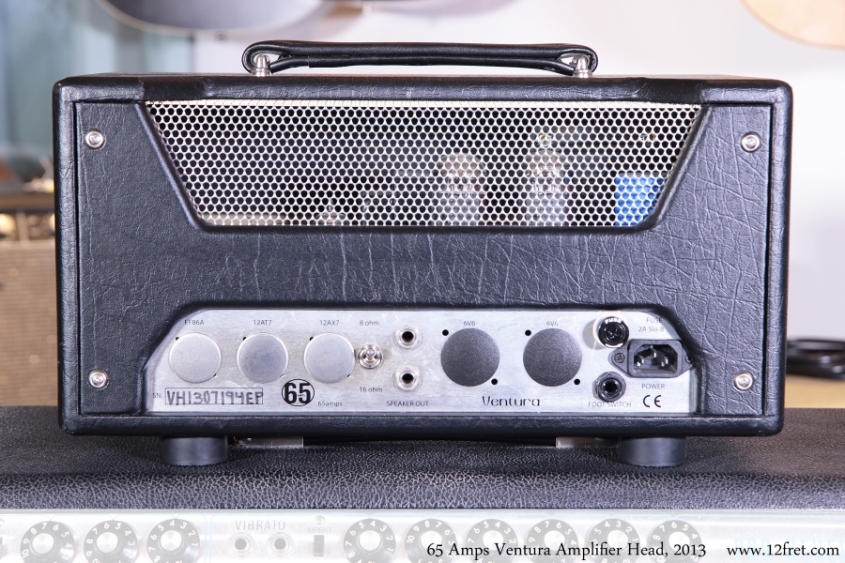 The 65 Amps Ventura is aimed at studio and smaller venue players who need high quality but portable tube amplifiers. At 20 watts and under 20 pounds, this "Lunchbox" size amp is right on target.
Dating to July of 2013, this Ventura head is in excellent shape, and is sold with its original two-control footswitch and a red power cable. The manual for this amp can be viewed here.
Here's the builder on the 65 Amps Ventura amplifier.
"The 65 Amps Ventura is a response to the over-saturation of "Lunch Box" amps in the market that are found lacking in quality for professional players. Size and convenience should not mean compromise.

The Ventura illustrates that size and convenience can be combined with high-level, professional functionality. The Ventura is made in 65 Amps' factory in North Hollywood utilizing the same high-level materials and engineering experience of the 65 Amps crew.

The Ventura uses two 6V6s in the power section and the front end utilizes 65 Amps' most popular circuits; the Color channel of the London and the Bump™ circuit of the SoHo. This allows the Ventura to create a rich palette of American and British tones all with the signature flair that has made 65 Amps a major presence on top-level tours and recording studios around the world.
The "clean" side utilizes the tried and true Color Channel from 65 Amps' original London and the "dirty" side employs 65 Amps' "Bump™" circuit that made the SoHo our most popular touring amp. Players are able to seamlessly transition through 4 levels of tone and gain structure in one amp without a thought. The Ventura is the latest offering in the 65 Amps "Working Pro" line that is geared towards working musicians who need super functionality and reliability while not compromising on tone and responsiveness. Introduced in 2012."
65 Amps Ventura Specifications:
Power output: 20 Watts
Pre-amp tubes: 1 x EF86, 1 x 12AT7, 1 x 12AX7
Power tubes: 2 x 6V6
Rectifier: Solid state
Panel controls: ON/OFF, Standby, passive series FX Loop, Master Voltage™, Tone, Volume, Channel switch, Bump™ switch
Hybrid London Color channel and SoHo gain stage front end
Tubes: (EF86 clean channel / EF86 -> 12AT7 dirty side, 12AX7 Phase inverter)
Bump Control: Works on both channels = 4 Voices
Accessories: dual button footswitch included that controls channel and bump
Price: $1700.00 CAD
$1899.99 CAD
Model: Ventura Head
Year: 2013 |
Class: Used
Serial Number: VH1307194EP, built during July 2013 in North Hollywood, CA
Country of Origin: USA
Condition: Very Good
Date Posted: 05/01/2023
---
This item has sold
Consignment Item
---
Manufacturer's Website
Contact The Twelfth Fret Regarding This Item