Brand:
Nice Rack Rigs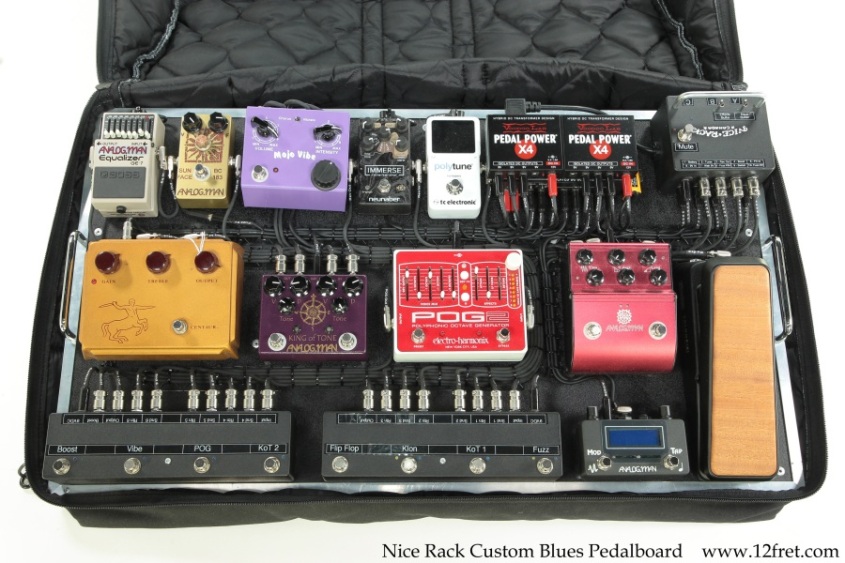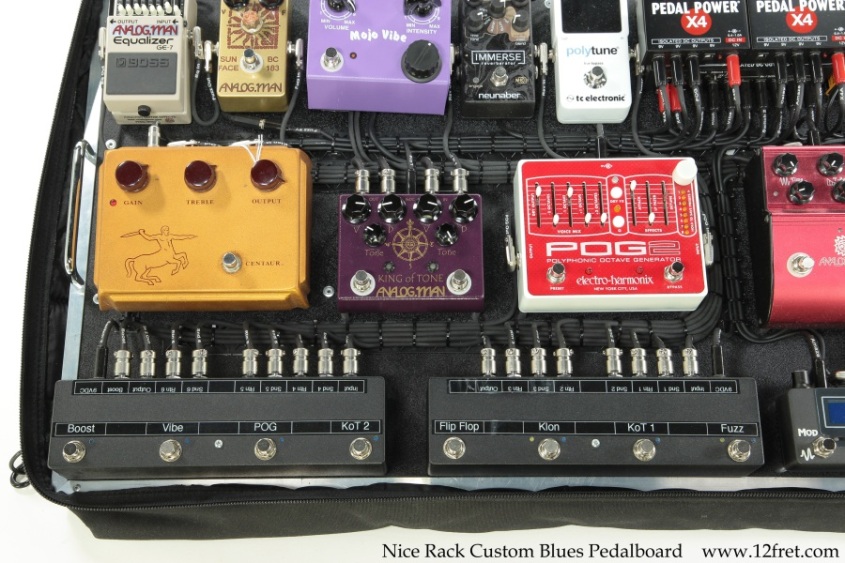 This Nice Rack Custom Blues Pedalboard is one of a pair of purpose-built units, created and basically never used. While this board was built for a Blues project, the other board – listed separately – was aimed at a Cover Band project.
If you're used to seeing most pedalboard assemblies, the Nice Rack Blues Custom is a revelation. The design is thorough and comprehensive, the materials used are high quality, and the construction is top notch. These were not inexpensive builds, and it's clear why. The effects are all high end and include a genuine Klon Centaur!
Sold with its original Custom gig bag made by Studio Slips, which contains the extra, custom cables.
The Nice Rack Custom Blues Board Components:
NiceRack Switching module
Klon Centaur

Expression Pedal
Nice Rack Switch Bank #1
Nice Rack Switch Bank #2
Here are notes from the builder of the Nice Rack Blues board:
"This is a Series Wired Pedalboard System with Custom Built True Bypass Switchers.
The purchaser of the system will receive a Signal Flow chart. The purchaser of the system will also receive a 15 minute telephone call for an overview of the system. Further tutorials are available for purchase by the hour from our shop.
This Custom Built System Interface features include:
Input Buffer
Fuzz Buffer
Wah Insert Loop
Carbon Battery or Power Supply Voltage to Fuzz Pedal Switching Circuit
Output Buffer
Switchable Clean Boost Circuit
System Mute Switch
Tuner Constant Input Circuit in Parallel with the System Output
Custom Audio Switcher #1 features include;
3x True Bypass Effects Loops
1x Flip Flop Switch to toggle between Loop #1 & Loop #3 being active
Loop 1 Fuzz Pedal + Eq Pedal
Loop 2 King of Tone Side 1
Loop 3 Klon
Custom Audio Switcher #2 features include:
3x True Bypass Effects Loops
Loop 1 King of Tone Side 2
Loop 2 POG
Loop 3 Vibe
Control Switch for Clean Boost Circuit
System Power Supply by Voodoo Lab.
The system is wired with Evidence Audio Monorail cable & SquarePlug plugs for audio, with Canare GS4 Cable & Switchcraft plugs for power."
Price: $8999.99 CAD
$12500.00 CAD
Model: 'Blues' Custom Pedalboard
Year: 2021 |
Class: Used
Serial Number: N/A, custom built late 2021 in Toronto, Canada
Country of Origin: Canada
Condition: Near Mint
Date Posted: 08/05/2023
---
---
Manufacturer's Website
Contact The Twelfth Fret Regarding This Item