130 Anos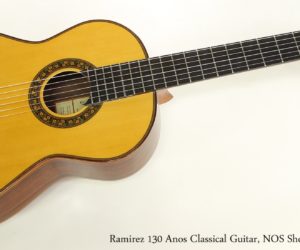 Ramirez 130 Anos Classical Guitar, NOS Shopworn, 2013
Price: $2259 CAD
This instrument has sold
MORE

→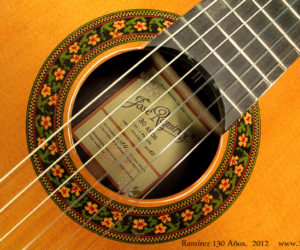 The Ramírez 130th Años, or 130th Anniversary model – "Guitarras de Estudio" supercedes the 125th Años model as a Limited Edition built years until 2017.
Price: $2749 CAD
MORE

→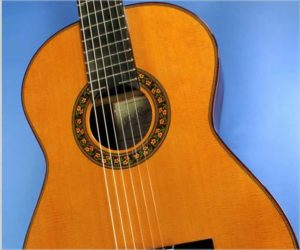 The Ramírez 130 Años classical guitar is based on the 1990s model E series guitars, developed from designs conceived by Jose Ramírez III. Amalia Ramírez created the 130 Años guitar to celebrate the 130th anniversary of the Ramírez workshop in Madrid. Affordably priced, all-solid-wood instrument for the serious student of classical guitar. These instruments feature all solid wood construction, an asymmetrical 6 top-strut fan brace pattern, a unique custom soundhole mosaic rosette and custom Ramírez label. The headstock shape is
Price: $2749 CAD
MORE

→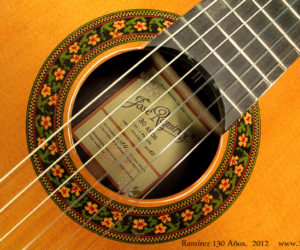 Celebrating 130 years of guitar-making tradition: Ramirez 130th Anniversary model ("130 Años").
Price: $2749 CAD
MORE

→