Gretsch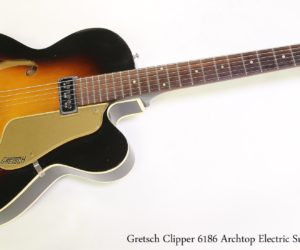 Gretsch Clipper 6186 Archtop Electric Sunburst, 1958
Price: $999.99 CAD
MORE

→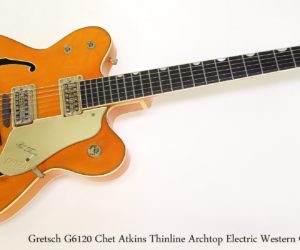 The Gretsch 6120 Chet Atkins appeared in 1954 as a 16 inch wide 2.75 inch deep, single cutaway double pickup model, but for 1962 the new closed ElectroTone body provided a second cutaway shallower depth at 2.25 inches and faux F-Holes.
Price: $4250 CAD
MORE

→
The Gretsch G6120 DS Nashville is based on 1955-56 6120 models equipped with single coil deArmond DynaSonic pickups. Built for a short time starting in 2003, it is a 'dressed down' version of the G6120 DSV – it lacks the Western-style decorative G brand on the body and engraved block inlays.
Price: $2200 CAD
MORE

→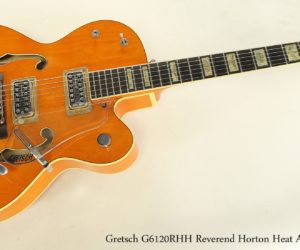 The Gretsch G6120RHH is the signature Reverend Horton Heat model, based on 1955 and 1958 6120 specifications. It features classic lines and Western decoration, plus a number of modern upgrades like locking tuners and pinned adjustable bridge.
Price: $3199 CAD
MORE

→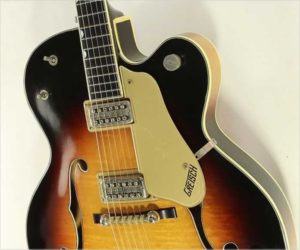 This 1960 model Gretsch Country Club, with the trestle braced thinner body. The serial number grouping indicates an early part of the year, though the dates are not certain. There is some uncertainty as to the model number, because the stamp on the label is very faded. At this point, the Country Club used the designation 619x, with the 'x' indicating the finish colour. The most common variations are 6192 (sunburst), 6193 (natural) and 6196 (Cadillac Green). We read the last digit of the label as a 5, which can mean a custom order.
Price: $4599.99 CAD
MORE

→
It's unusual enough to run across the Gretsch White Falcon, but to see one with 1950's style Trestle bracing AND Left Handed is another thing entirely! Originally created as a showpiece for the annual winter 1955 NAMM music trade show in Anaheim, California, the Gretsch White Falcon received an unexpected level of interest – and orders.
Price: $2950 CAD
This instrument has sold
MORE

→