Martin
Martin D-18V – this model is no longer available.
New
This instrument has sold
MORE

→
Based on the legendary C.F. Martin Guitar Company D-35 model, the Martin HD-35 features a three-piece back, a bound fingerboard, all wrapped together in Martin's classic herringbone inlay.
New
Price: $4,419.00 CAD
MORE

→
After producing a large bodied instrument under the Ditson brand, in 1931 the Martin Company began producing dreadnought guitars that carried the Martin name. The D–1, like the earlier Ditsons, was a mahogany body instrument, destined to become the D–18. With the D–2, Martin introduced what may still be the most popular style of steel string guitar, the rosewood body dreadnought. All of Martin's early dreadnoughts had the 12–fret neck of the Ditson design. It wasn't until 1934 that D–28s and D–18s officially were offered with the 14–fret neck that most consider the industry standard today.
New
This instrument has sold
MORE

→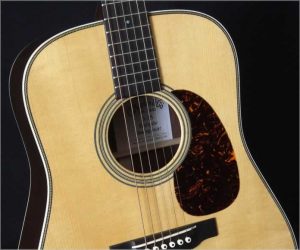 The Marquis line from Martin guitars provides players with a vintage aesthetic and great tone shaping features. The grain patterns and red color hues on the back had me in awe upon first look and then came the tone!
New
This instrument has sold
MORE

→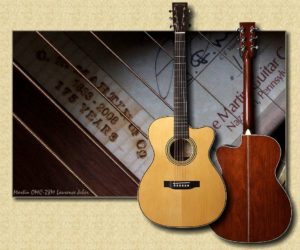 Fingerstyle guitarist Laurence Juber's relationship with the C.F. Martin company started in 2002 with the introduction of the OMC-VLJ. The year 2004 saw two more Limited Edition "Jubers" sporting Indian and Brazilian rosewood back & sides. Building on the overwhelming success of these instruments, Martin has come out in 2006-2007 with this EXTREMELY attractive OMC-28M utilizing premium Adirondack spruce top and brace wood in conjunction with rare Madagascar rosewood back & sides!
New
This instrument has sold
MORE

→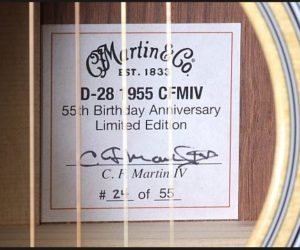 Today, we are proud to feature a very special guitar: the Martin D-28 1995 CFM IV 55th Birthday Anniversary model. Built in honor of Chris Martin's continuing dedication to the Martin Guitar Company, this guitar is a historic reissue based on the specs of a 1955 D-28. To celebrate Chris Martin's 55th birthday, Martin is building 55 of these beautiful guitars. We have only 1 available; numbered 24/55.
Vintage
This instrument has sold
MORE

→