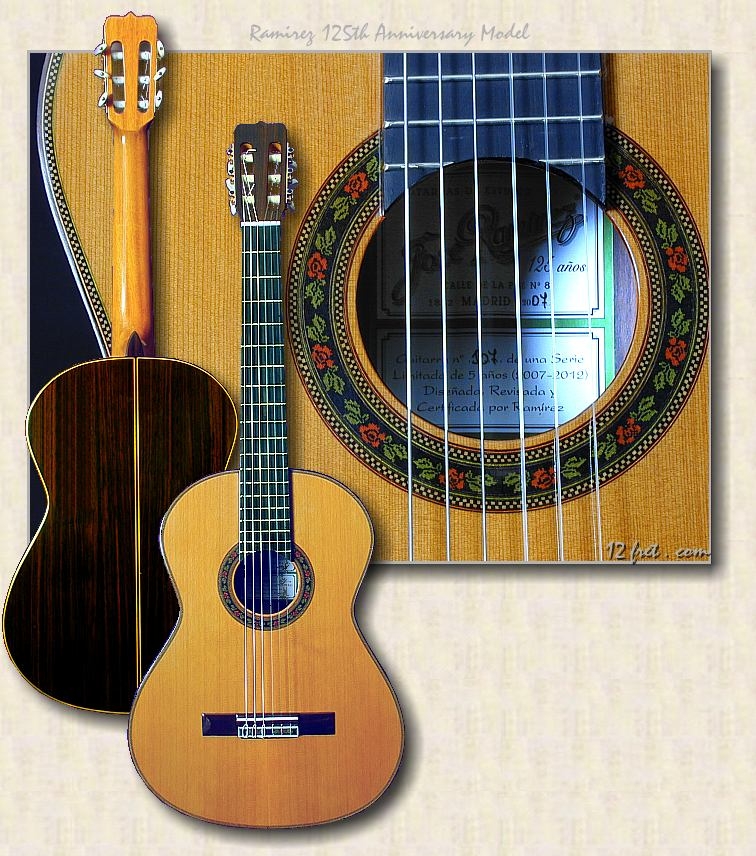 Based on the template of the E line designed by Jose Ramirez III, Amalia Ramírez has created the Ramirez 125th Anniversary Studio Guitar model as a Limited Edition built during the five years from 2007-2012, celebrating the 125th Anniversary of the Ramirez workshop!
This model is no longer available and has been superceded by the Ramirez 130 Anos Anniversary guitar.
This instrument features all solid wood construction, a complex asymmetrical 6-fan top strut pattern, custom soundhole mosaic rosette, custom top marquetry perimeter and custom label! The 125th Anniversary has an extremely wide tone pallet with a wide dynamic range and authoritative overall sonic presence that rivals many concert level instruments!
The design features, inside and outside of the 125th Anniversary "Guitarras de Estudio" Ramírez guitars, as well as the template, decoration, tone, and quality of sound and materials, are exclusively Ramirez. These guitars are made outside of the tiny Ramirez workshop, in limited runs, by carefully selected Spanish manufacturers. They are specifically and uniquely built for Ramírez, and although their construction is not directly inspected by Amalia Ramírez, all guitars are finally adjusted in her workshop by her craftsmen under her personal supervision.
---
Due to international agreements, new Ramírez guitars cannot be shipped to the USA. 
There are no shipping restrictions on used Ramírez or on any other new or used guitars.
---
Price: $0.00 CAD
Model: 125th Anniversary Studio Guitar
Year: Current
Class: New
Country of Origin: Spain
Condition: Brand New
---
This instrument has been sold
Not Consignment
---
Contact The Twelfth Fret Regarding This Item