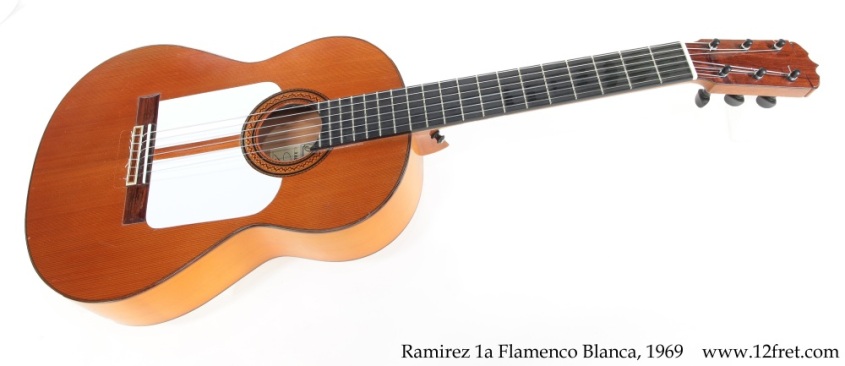 This Ramirez 1a Flamenco Blanca is a wonderful rarity, built and signed by Antonio Martínez Ortega, one of Jose Ramirez III's top craftsmen, during 1969.
Over the last couple of years, this fine guitar has been modified to make it more 'Performance Ready': the original Rosewood friction tuning pegs have been replaced with geared Wittner tuners, and a Carlos VIPDM pickup set has been installed, with controls tucked under the bass edge of the soundhole. As well, a new, larger white Golpeador set has been installed to protect the top. You might observe that the outside 'E' strings are wrapped 'backwards' around the tuning posts. This is done to create a straight path for the string and reduce friction during tuning, improving tuning speed and stability.
A period hard shell case is included.
Here are the notes from Grant MacNeill, made while working on this fine instrument:
---
Ramirez Flamenca Blanca guitar
Built in 1969, Serial #3664
Stamped AM; built by Antonio Martínez Ortega
This is a superb example of the handmade quality of the flamenco guitars built during the golden age of Ramirez workshop during the 1960s under the eyes of José Ramirez III.
Stamped on the slipper foot just above the label are the initials "AM" indicating that this fine instrument was built by Antonio Martínez Ortega, one of veteran, master luthiers in the workshop during the 1960s. His guitars were especially favoured by the top players and used by Andres Segovia, Laurendo Armada, and Christopher Parkening. For this reason, they are particularly desirable and collectable.
The tone is full, fully developed, and well balanced. It is an excellent example of a vintage Flamenco voice with plenty of volume.
The Ebony fingerboard uses the standard Ramirez 656mm Flamenco Scale with a 54 mm Nut and the neck has a shallow U profile.
Typical of Ramirez 1a Flamenco Blanca models, this example is built with a Red Cedar top, Cypress back and sides, Spanish Cedar (Cedrela Odorata, which is neither Spanish or Cedar) body blocks and neck, an Ebony fingerboard and Brazilian Rosewood peghead overlay and bridge.
Though this guitar shows signs of heavy use, there is no history of damage or amateurly done repairs.
I have done the following service work on this guitar:
Rosewood pegs re-fitted and chalked and working as they should
Frets dressed, recrowned and polished
The bridge converted to a 12 hole tie block which allows for far lower action and improved down-bearing at the saddle. There is ample remaining scope at the saddle to lower the action further without any compromise in tone.
Action lowered to 5.5/64 treble and 6.5/64 bass; , standard action for flamenco players. That said, I have many flamenco players who go higher and a tiny minority that go even lower.
Nut slots opened up and recut to fit modern strings as they should
The heavily worn Golpéador tap-plate was replaced with one of identical size
Grant MacNeill, Classical/Flamenco Specialist
---
Price: $5,500.00 CAD
$6,750.00 CAD
Model: 1a Flamenco
Year: 1969
Finish Amber Tint Clear
Class: Vintage
Serial Number: 3664 and AM stamp, built during 1969 at Concepcion Jeronima No.2 Madrid Spain
Country of Origin: Spain
Condition: Good
Date Posted: 06/04/2022
---
---
Required CITES documentation
Including Hard case
Instrument Weight: 3.168lbs 1.44kg
Scale Length: 25.826in 656mm
Nut Width: 2.107in 53.48mm
Ramirez Website
Contact The Twelfth Fret Regarding This Item