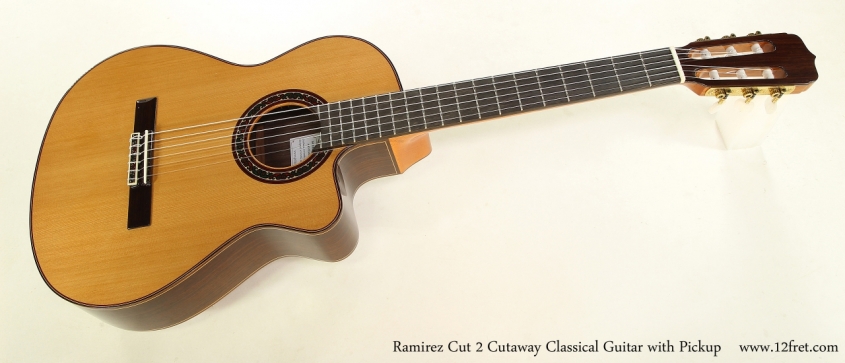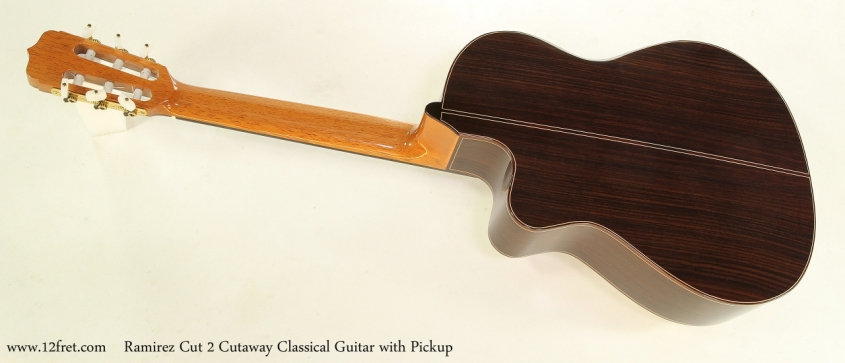 The Ramírez Cut 2 Classical Guitar is a cutaway from the Ramirez Studio Line. The new headstock along with the new rosette are the first visual characteristics of the new Studio Line and they are designed by Amalia Ramirez, but the improved sound and overall quality of the new template are the main points in this new line of guitars.
The Ramirez Cut 2 classical guitar offers superior high-quality woods, quite balanced among its tonal range with high stability on its third string. It stands out due to its comfort and how easy it is to change and play with the timbre. Rich in overtones.
The Cut 2 is a great guitar for the performing musician and professional that wants to amplify a high-quality guitar and that wants to attain the best results live and in the studio.
Amplification can be added with Fishman, Schertler, or Midi RMC pickups. It can also be that. Available as left-handed model.
---
Setup for new Ramirez guitars.
We carefully inspect and setup all new Ramirez guitars to ensure that they are in fully playable condition. We will do any additional setup adjustments according to the purchasers needs at no extra cost.
Generally the "factory action" is in the range of 8/64" treble and 8.5/64" bass; the normal range of standard classical "concert" action height for players using typical classical right hand technique with an aggressive light right-hand attack. We always adjust the nut slots to our preferred settings.
If you are playing in the Latin jazz style with free-stroke right hand technique and don't anticipate using an aggressive rest stroke, then we would advise that we lower the action before shipping. If you are an aggressive player, then we generally stay with the current "standard" action height.
We setup any new or used guitar we sell to suit the player; Please provide as much information as possible about your playing style so we can make an informed decision on how to setup the guitar;
Your right hand picking attack; free stroke vs. rest-stroke
Classical right-hand position vs. Chet or Latin style hand position
Your estimation of your normal action height on your current guitars (low vs. medium or high) plus anything else that will help us to setup your guitar appropriately.
---
Due to international agreements, we cannot ship new Ramírez guitars to the USA.
There are no shipping restrictions on used Ramírez or on any other new or used guitars.
---
Price: $3,789.00 CAD
Model: Cut 2
Year: Current
Finish Gloss - Lacquer
Class: New
Country of Origin: Spain
Condition: Brand New
---
---
Including original None case
Scale Length: 25.6in 650mm
Nut Width: 1.96in 50mm
Contact The Twelfth Fret Regarding This Item