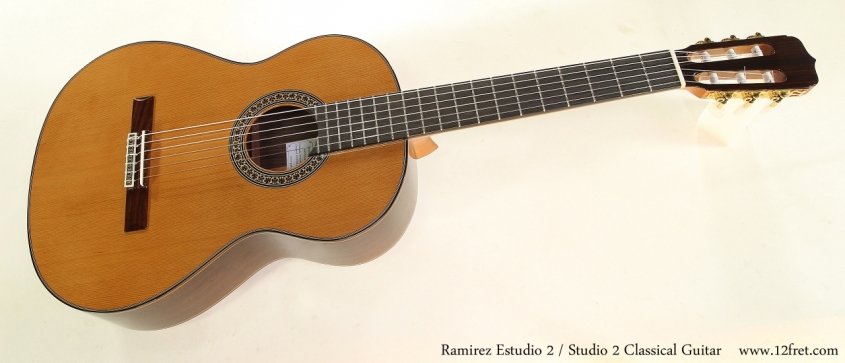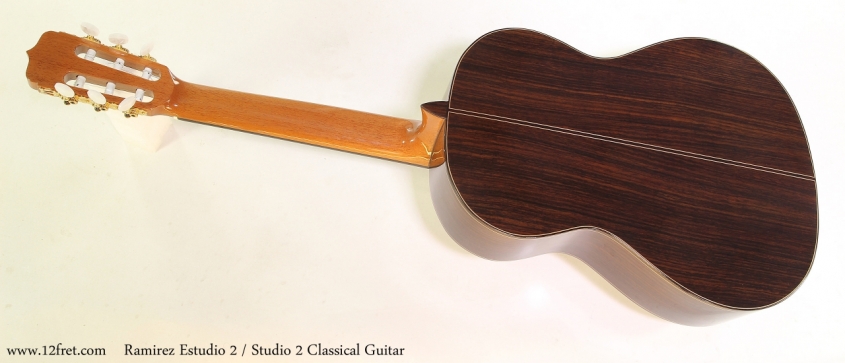 The new Estudio guitars evolved from designs conceived by Jose Ramirez III. Previously known as the 2NE and 3NE models, Amalia Ramirez has updated this model, blending fine workmanship, excellent tone and balance into an affordably priced, all-solid-wood instrument for the serious student of classical guitar.
Ramírez Estudio 2, "Guitarras de Estudio" with Ramírez case – Advanced Student Concert Model
The Estudio is uniquely Ramirez in decoration, quality of tone and materials. Featuring all-solid-wood construction, an asymmetrical 8 fan-brace pattern and new decorative upgrades; a new mosaic rosette and custom Ramirez label, plus a return to the historical pre-war era headstock shape associated with Ramirez guitars.
Available in Red Cedar and German Spruce top; subtle tonal differences with Cedar compared to Spruce tops: more bass power from the Cedar; and clearer, more articulate trebles with Spruce.
Price includes the Italian-made Ramirez case and full setup here in our workshop.
---
Setup for new Ramirez guitars.
We carefully inspect and setup all new Ramirez guitars to ensure that they are in fully playable condition. We will do any additional setup adjustments according to the purchasers needs at no extra cost.
Generally the "factory action" is in the range of 8/64" treble and 8.5/64" bass; the normal range of standard classical "concert" action height for players using typical classical right hand technique with an aggressive light right-hand attack. We always adjust the nut slots to our preferred settings.
If you are playing in the Latin jazz style with free-stroke right hand technique and don't anticipate using an aggressive rest stroke, then we would advise that we lower the action before shipping. If you are an aggressive player, then we generally stay with the current "standard" action height.
We setup any new or used guitar we sell to suit the player; Please provide as much information as possible about your playing style so we can make an informed decision on how to setup the guitar;
Your right hand picking attack; free stroke vs. rest-stroke
Classical right-hand position vs. Chet or Latin style hand position
Your estimation of your normal action height on your current guitars (low vs. medium or high) plus anything else that will help us to setup your guitar appropriately.
---
Due to international agreements, we cannot ship new Ramírez guitars to the USA.
There are no shipping restrictions on used Ramírez or on any other new or used guitars.
---
Price: $2,650.00 CAD
Year: Current
Finish Polyurethane
Class: New
Country of Origin: Spain
Condition: Brand New
---
---
Including Hard case
Scale Length: 650mm
Nut Width: 52mm
Contact The Twelfth Fret Regarding This Item