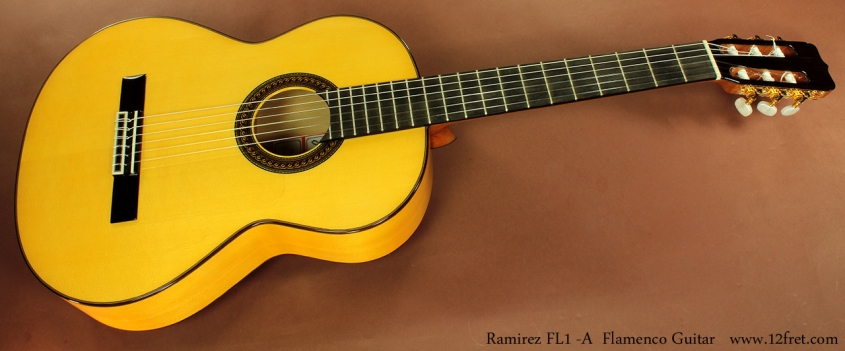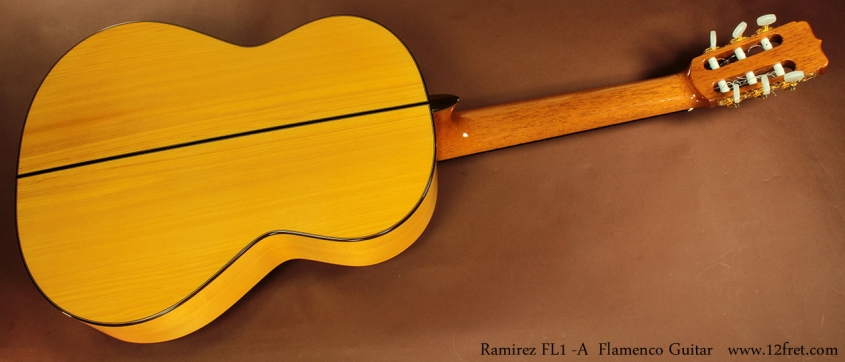 The Ramirez FL-1 Flamenco model is the top "production" Flamenco model from Ramirez. Based on the professional 1a F656-A model developed by Jose Ramirez III, Amalia Ramirez created the FL-1 model as an affordably priced, all-solid-wood instrument for the Flamenco guitarist.
The Ramirez FL-1 Flamenco instrument features all solid wood construction. AAA German Spruce top and Cypress-wood back and sides fitted to a Spanish Cedar neck. The top is fitted with a standard Golpé tap plate to protect the finish.  The German Spruce top married with the Ramírez special fan brace pattern promotes a powerful and snappy flamenco tonal response with the volume you would expect from a professional quality flamenco guitar.
The design features are uniquely Ramírez in decoration, tone, and quality of sound and materials. The designed by Amalia Ramírez and inspected and adjusted in her workshop by her craftsmen under her personal supervision.
Price includes the Italian made Ramírez case and full setup according to our workshop standards.
---
Setup For New Ramírez Guitars
We carefully inspect and setup all new Ramírez guitars to ensure that they are in perfect working order.
Flamenco setup is VERY different from all other classical guitars.
For conventional classical guitar, any hint of fret rattle or buzz is undesirable, but with Flamenco, string slap is very much part of the sound.
With conventional classical action, it is impossible to get the correct flamenco string-slap when you attack aggressively simply because the strings are far too high.
When setup properly a flamenco guitar will give a clear sound only when played gently and as the player "digs in" or the right hand pick attack becomes more aggressive, then the string will slap against the fretboard. This gives that percussive attack, brief sustain and quick decay of the note that one associates with flamenco guitar.
Generally the "factory action" is in the range of 7/64" treble and 7/64" bass, which is in the normal "standard" range.
Many more aggressive professional players prefer slightly lower string height in the range of 6/64". Then less effort is needed to get the buzz or slap needed for traditional flamenco music.
That said, many of our clients purchase a flamenco guitar for a variety of music and prefer 7/64 as a good compromise action allowing for Flamenco but also a variety of Latin, Jazz and classical music as well.
Nut height: we always adjust the nut slots to our preferred setting.
We will do any setup adjustments the purchaser requires and install new strings of their choice for no extra cost.
If you are playing in the Latin jazz style with free-stroke right hand technique and don't anticipate using an aggressive rest stroke, then we would advise that we lower the action before shipping. If you are an aggressive player, then I would recommend staying with the current "standard" action height.
It is a given that we will setup any guitar we sell to suit the player. It is best if you can provide as much information as possible about your playing style so we can make an informed decision on how to setup the guitar:
Your right hand picking attack; free stroke vs. rest-stroke
Classical right hand position vs. Chet or Latin style hand position
Your estimation of your normal action height on your current guitars (low vs. medium or high) and anything else that will help us to setup your guitar appropriately.
---
Due to international agreements,new Ramírez guitars cannot be shipped to the USA. 
There are no shipping restrictions on used Ramírez or on any other new or used guitars.
---
Price: $2,889.00 CAD
Model: FL1
Year: Current
Finish Solid Cypress back & sides, German Spruce top,
Class: New
Country of Origin: Spain
Condition: Brand New
---
This instrument has been sold
Not Consignment
---
Contact The Twelfth Fret Regarding This Item