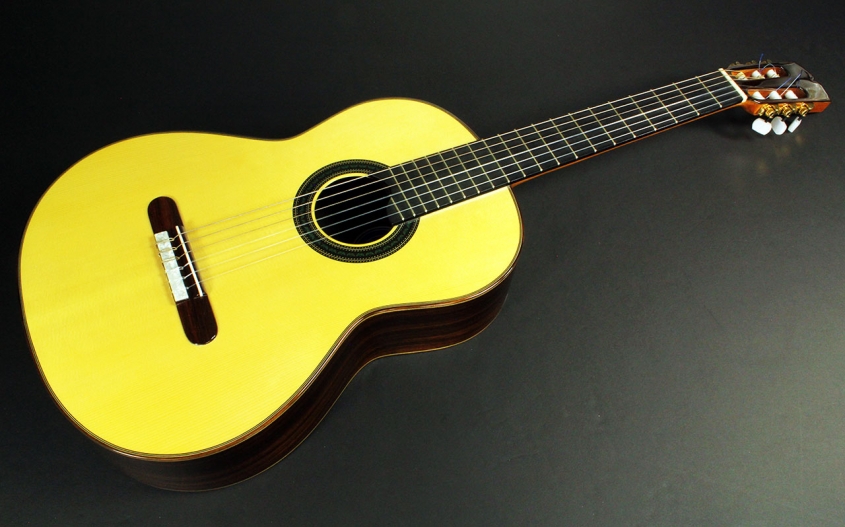 Note! The Ramírez Model GH is discontinued and out of production.   We're maintaining this post for reference purposes.   For information on current Ramirez models, please contact us using the form below. 
---
The Ramírez Model GH was issued in early 2007 as a special model to commemorate the Ramírez guitar that George Harrison owned. His original guitar was a very basic so-called "Tourist Guitar" that was built in another workshop, "down the street" from Ramírez guitars.
Though the appearance is the same, the new GH is a very different guitar indeed from the original Tourist Guitar of the 1960s.  Amalia Ramírez carefully reproduced the look of this guitar: the rosette, the authentic soundhole label, the peghead shape with the Hauser style tuners, fretboard and unique bridge feet and pearloid covered tie bock. And since the original was spruce, this commemorative GH model had to be German Spruce top as well.
It features the latest in Amalia's expertise and design features: fan braced, select German Spruce top on Solid AAA Rosewood back and sides. Finished in standard Ramírez E series varnish this guitar is in the same quality bracket as the top E series model 4 NE.
Tone is perhaps a little more defined in the trebles and clarity in the bass range is enhanced due to the slightly stiffer German Spruce. Overall balance is very good; full bass and full volume with trebles that sound sweet and round. A few hundred hours of playing time on a Spruce top and this model will really reach it's potential.
The Spruce top is a AAA grade, very clear and straight grained top as can be seen in the close up photos. Lovely silk or quarter-flower indicates that the top was perfectly quartersawn …typical of tops normally found on more expensive guitars. The Indian Rosewood back and sides are straight grained with lovely grain and colour. The purfling joinery at the heel cap and end block is clean and well executed and the fretboard ebony is clear and jet black.
Strangely, as one of the few Ramírez guitars offered in German spruce, the GH model "flew under the radar" and was by and large overlooked. Most of our advanced student classical clients choose the Ramírez 4NE cedar top as a matter of course. That said, the GH is certainly an equal and we sold a number of these guitars in 2008 and 2009.
Though still available on special order, we no longer stock this model.
Original Ramírez  Italian-made hardshell case included.
---
Setup for New  Ramírez  Guitars
We carefully inspect and setup all new Ramirez guitars to ensure that they are in perfect working order.
Generally the "factory action" is in the range of 8/64" treble and 8.5/64" bass, which is the normal range of standard classical "concert" action height for players using typical classical right hand technique with an aggressive light right-hand attack.
Nut height: we always adjust the nut slots to our preferred settings.
We will do any setup adjustments the purchaser requires and install new strings of their choice for no extra cost.
If you are playing in the Latin jazz style with free-stroke right hand technique and don't anticipate using an aggressive rest stroke, then we would advise that we lower the action before shipping.
If you are an aggressive player, then I would recommend staying with the current "standard" action height.
It is a given that we will setup any guitar we sell to suit the player. It is best if you can provide as much information as possible about your playing style so we can make an informed decision on how to setup the guitar:
your right hand picking attack; free stroke vs. rest-stroke
Classical right hand position vs. Chet or Latin style hand position
your estimation of your normal action height on your current guitars (low vs. medium or high, or actual measurements between the top of the fret and bottom of the string)
and anything else that will help us to setup your guitar appropriately.
---
Due to international agreements,new Ramírez guitars cannot be shipped to the USA. 
There are no shipping restrictions on used Ramírez or on any other new or used guitars.
---
Model: GH
Year: Current
Class: New
Country of Origin: Spain
Condition: Brand New
---
This instrument has been sold
Not Consignment
---
Contact The Twelfth Fret Regarding This Item