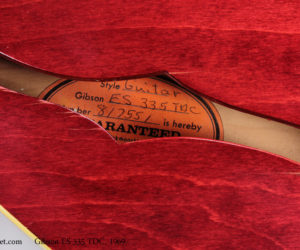 Here is a great all original, 1969 Gibson ES-335 TDC.
The full model name means that this is an ES-335 guitar, it's Thinline, Dual pickups, and Cherry finish.
The ES-335 was introduced in 1958 to bridge the gap between full arch-top instruments, which were definitely developing issues with the the progress in amplification technology, and the full solid-body guitar, which could lack the warmth and resonance of an archtop.
MORE

→