Posts Tagged danelectro
This copper finish Danelectro DC-59 is a cool retro guitar that will have vintage fans drooling with envy!
MORE

→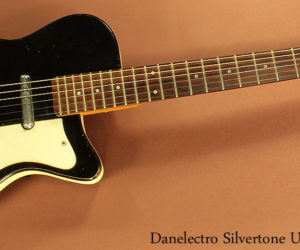 Originally, from 1934 to 1946, Nathan Daniel built amplifiers for Epiphone. In 1947 Danelectro was founded and built amplifiers for companies like Montgomery Ward, Sears&Roebuck and Targ&Dinner. The first Danelectro guitars were made in 1954 for Sears under the Silvertone name, and featured solid poplar bodies and neck stiffening rods instead of adjustable truss rods.
MORE

→