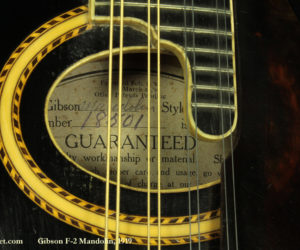 Here is a very good condition Gibson F-2 Mandolin, built during 1919.
Gibson began producing non-traditional mandolins – that is, not using the European bowl-back, flat-top design – in the late part of the 19th Century, basing this radically new design on another traditoinal instrument – the violin. The F series features the 'scroll' on the upper bout, and the fancier headstock than the teardrop-shaped A series.
Orville Gibson died on August 21, 1918 of endocarditis. Not long after, the Gibson company hired Lloyd Loar to revamp the designs, and his first models started appearing around 1922. This fine example of Gibson instrument production falls between those two points.
MORE

→