Featured New and Used Taylor Guitars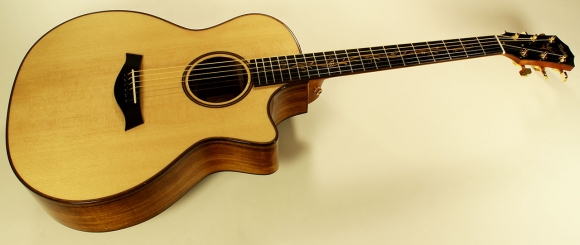 In the words of Bob Taylor;" We started Taylor guitars with a simple philosophy of building – that guitars should sound good and be easy to play. To build them, we use our hands, we use machines, we use good materials, and above all we use our heads. Whatever it takes to make guitars that meet our objectives, we do it."
This refreshing attitude is reflected in Taylor guitar's  innovations and flawless craftsmanship. They are always looking for better ways to build guitars from their bolt on NT neck design to laser cut tops and robotically applied UV cured finish. Bob wrote the book on acoustic guitar playability. You don't have to fight these guitars. They play themselves. Sonically they are crisp and lively with a more modern tonal style. With a variety of body shapes and wood combinations to choose from almost any player will find something that suites them. In addition to their comprehensive standard line with Taylor's Build to Order custom shop you can choose from a stunning array of options to create a one of kind guitar made just for you!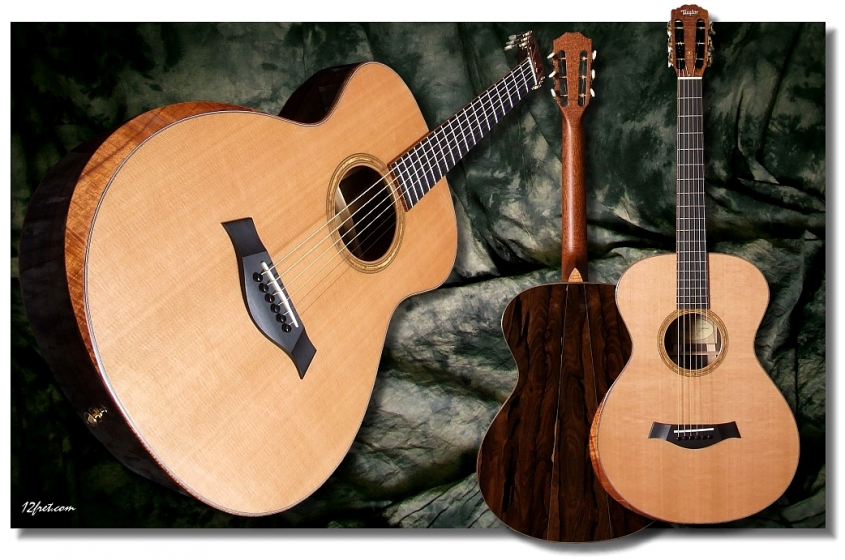 Click here for factory tours:
Nevin Douglas visits Taylor guitars
Mike Gray visits Taylor guitars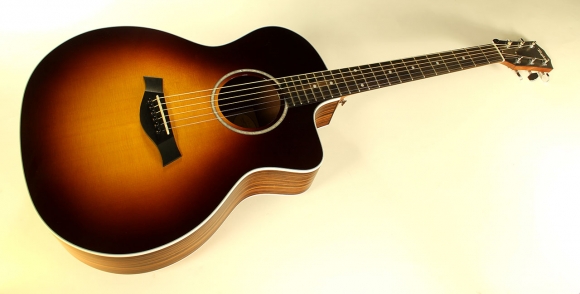 Taylor uses a logical, 3-digit model numbering system for their "Acoustic Electric" cutaway line. The first digit is the series number, denoting types of woods and level of ornamentation. The second digit usually denotes the number of strings: "1" indicating a 6 string model and "5" specifying a 12 string instrument. The third digit signifies the body shape: "0" for Dreadnought, "2" for Grand Concert, "4" for Grand Auditorium, "6" for Grand Symphony and "5" for Jumbo. For instance a model 710 would be a rosewood six string dreadnought and a model 655 would be a maple twelve string Jumbo. The added "CE" stands for cutaway/electric. Any guitar from this line can be special ordered without pickup.
The non-cutaway "Acoustic Guitar" line uses a letter to denote body size followed by a number indicating which series it is from. For instance a GS5 is a Grand Symphony with 500 series features … a GA6 is a Grand Auditorium body size with 600 series appointments … a DN8 represents a Dreadnought body size with 800 series tonewoods. Any of the guitars from this series can be special ordered with the Taylor Expression System pickup/preamp on board.
Click on the links below to read about specific Taylor models
Baritone Grand Symphony Mahogany
Baritone Grand Symphony 8 String
Baritone Grand Symphony Mahogany 8 string
You can preview our videos now on Our YouTube Channel!