Cedar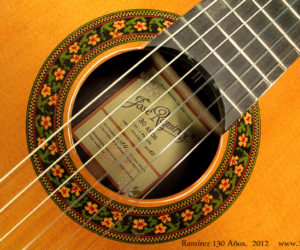 Celebrating 130 years of guitar-making tradition: Ramirez 130th Anniversary model ("130 Años").
New
Price: $2,749.00 CAD
MORE

→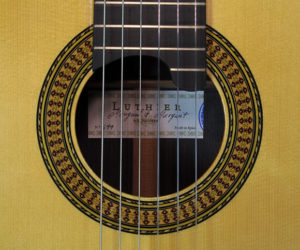 Part of their signature instrument line, the Alhambra Model Luthier India illustrates a high level of craftsmanship and attention to detail.
Available with either a Red Cedar or German Spruce top. As with all fine acoustic instruments, the guitar's tone will open and develop as it is played.
New
This instrument has sold
MORE

→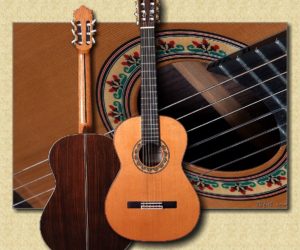 Manuel Ramirez de Galarreta y Planell was born in Alhama of Aragon in 1864. Manuel was the younger brother of Jose Ramirez I and at the age of 27 he decided to open his own shop at 24 Cava Baja Street in Madrid. This move caused bad feelings between the two brothers that were never resolved.
The new NE line is based on this design, the only changes being the mosaics and a few minor details of the internal construction in order to improve the sound quality." As opposed to the older Model 2E, the new 2N-E has solid Indian rosewood back & sides with a solid bookmatched Western Red cedar top.
New
Price: $2,250.00 CAD
This instrument has sold
MORE

→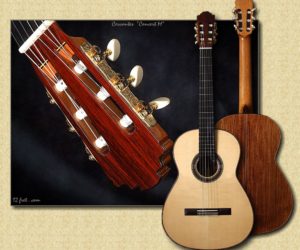 The model that we're featuring today is from Alejandro Cervante's Concert Series,  and is the very first "serious student" level instrument we have been able to offer with the unique negative neck angle Milenia style construction.  This guitar features a stunning premium Engelmann spruce top with Palo Escrito back & sides,  attractive marquetry & rosette and a 12-hole bridge tie-block.
New
This instrument has sold
MORE

→
Ignacio Fleta is generally considered to be one of the very best builders of classical guitars of the 20th century.  Born in the year 1897 into a family of cabinet builders,  by 1927 Fleta had set up his own instrument building shop in Barcelona Spain.  After hearing Andres Segovia in 1955,  Ignacio decided to devote the rest of his career to building concert classical guitars exclusively.  Within ten years he was receiving orders from the likes of Andres Segovia and John Williams.
New
This instrument has sold
MORE

→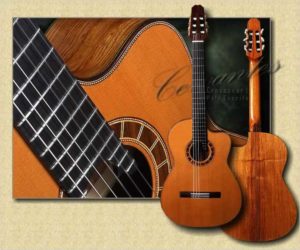 The Crossover I  is for those players that need a narrow neck and a radiused fingerboard … the perfect guitar for those steel string players that cross into the nylon string guitar territory seeking round deep basses and sweet trebles for Brazilian music or Jazz. Experience a full sounding guitar with the playability for those intricate chords and fast moving bass lines.
New
This instrument has sold
MORE

→