Made In Canada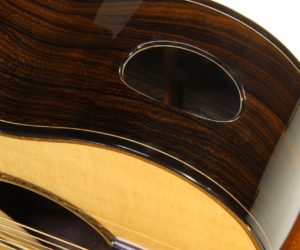 G W Barry Mod C Ziricote Cutaway Steel String Guitar, 2018
MORE

→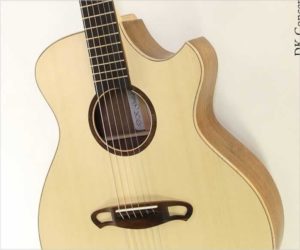 This DK Concertino was built during 2017 and pairs an Engelmann Spruce top with Black Walnut for the back, sides, headplate and backstrap, with Curly Maple for the neck and binding. The fingerboard is ebony, which is also used coupled with Curly Maple for the tailpiece; the bridge is Rosewood. DK guitars are built by Dmitry Kulakov near Ottawa. These unique instruments are visually arresting and innovative, but work well as playable instruments and sound quite good.
Price: $3399.99 CAD
MORE

→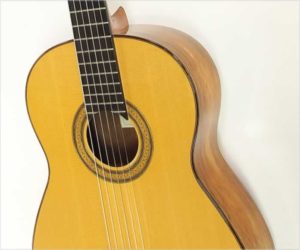 This Kolya Panhuyzen Classical Guitar, built during 1983 at the Panhuyzen shop in Toronto, Canada. Constructed in the traditional Spanish manner with 'slipper' heel and the sides tied into the block, this guitar features a Sitka Spruce top, Mahogany for the neck, Ebony for the fingerboard, and Brazilian Rosewood for the sides, back, headplate and bridge.
Price: $2850 CAD
MORE

→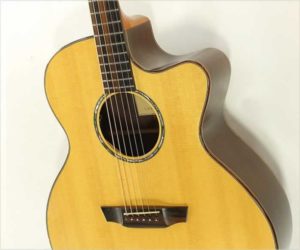 This G W Barry Concert Cutaway steel string dates to the year 2000 and was built in Toronto, using Sitka Spruce for the top, paired with Indian Rosewood for the back, and sides, and streaked Ebony for the fingerboard and bridge. The neck and blocks are Mahogany, and the rosette uses and Abalone ring. The Barry concert body draws from the proportions of the Gibson J-185, but in a more curvaceous – dare we say bodacious – rendering of that design.
Price: $3999.99 CAD
MORE

→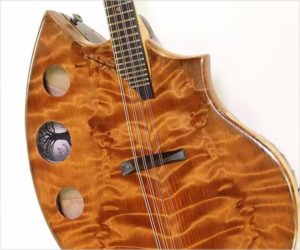 This Shellback Mandolin uses a surprisingly wide range of materials. The top is nicely figured Redwood, and the shellback – based on the Fibonacci spiral found naturally in many shells – is made of Cherry veneer with a Spruce center point. The side rims are Maple, with Wenge, Ebony and Spanish Cedar for the neck joint. The neck itself is birds-eye maple with a Padouk center strip and Ebony for the fingerboard.
Price: $2599.99 CAD
MORE

→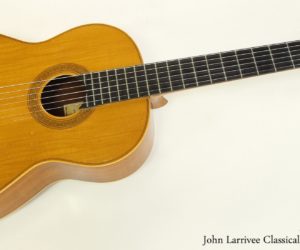 Here's a historical piece – a Larrivee classical guitar, built during 1969 in Toronto when John Larrivee was studying with Edgar Monch. This is one of Larrivee's very first guitars, as evidenced by the label. The very first labels were hand typeset, and had two spelling errors, in the first and last names!
Price: $1950 CAD
MORE

→