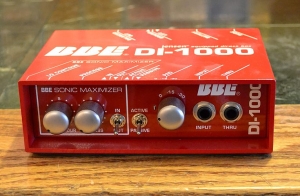 SOLD
DI-1000: $175
The DI-1000 is perfect for touring sound applications and recording studios, yielding excellent results with active or passive bass guitars, keyboards, and both acoustic and electric guitars. The DI-1000 is the ultimate means for transferring musical instrument signals direct to a mixing console.
The DI-1000 is a high quality direct box with applications both in the recording studio and on the road, designed to withstand the most demanding situations. It can operate as either a passive impedance matching device via the Jensen JT-DB-EP transformer, or as an active DI where the Sonic Maximizer circuit can be engaged with the signal still balanced at its output by the Jensen transformer.
Above all, the DI-1000 was designed without compromise, with paramount importance placed on maintaining the highest sonic integrity. No competitive high-end DI unit can deliver the clear, pure and natural sound that the DI-1000 can.
SOLD
Sonic Stomp: $50
Upgrade everything with Sonic Stomp, the one piece of gear which improves the performance of your whole rig. Whether you're a guitarist or bassist, get ready to be amazed. With Sonic Stomp's proprietary BBE Sonic Maximizer technology, you'll hear your amp cut through the band mix better with dramatically improved note definition in chords and solos. Even with a wall of distortion, the distinct harmonic elements of each note can be heard like never before. Time-based effects take on a level of realism and dimension you never thought possible. And if low-end punch is your thing, you'll discover the Lo Contour control is the ticket to meaty chunk without the mud.
It's like lifting a blanket off your amp to reveal the full potential of your gear and your musical expression. When you're ready to Maximize Your Tone, get your hands on a Sonic Stomp.
SOLD
Acoustimax: $99
In the four years since BBE last offered its award-winning 386 acoustic preamp, BBE's design and engineering teams studied the recording and sound reinforcement needs of serious acoustic players. The result is the Acoustimax, a foot-pedal-style (or "stompbox- style") acoustic preamp which raises the bar for amplified acoustic instrument sound quality.
Three band, recording-console quality eq with a sweepable mid-range band
Low-frequency notch filter
Phase reversal
Ground lift
Line level out
Dedicated tuner out
TRS effects loop
Pre/post switchable-balanced DI output with pad
Hardwire bypass
Non-slip rubber bottom
12v power supply included
---
You can preview our videos now on Our YouTube Channel!
You can now Visit our Facebook page!