Tuesday May 1 from 5:30 to 7:00
We are thrilled to welcome Tom Nechville back for another of his incredible clinics, on May 1 2012.
Bring your banjos…all of them…for Tom's free adjustments and setup advice.
Tom is one of the world's top banjo makers and repairman and he is an absolute wizard with setup adjustments. He will "hold court" in the 12th Fret banjo department with all of his tools and spare bridges.
A great opportunity to learn from the best…play some incredible Nechville banjos
…plus mingle with local banjo players !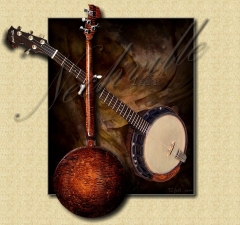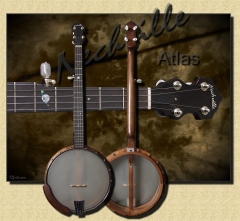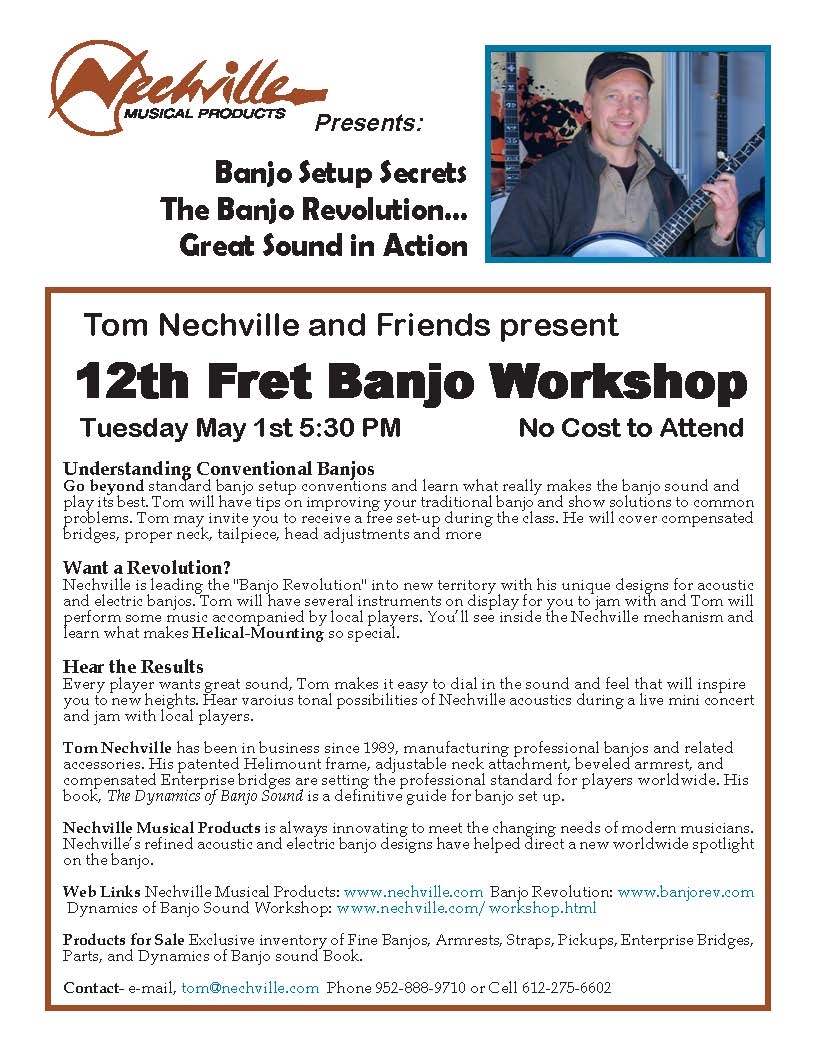 Who is Tom Nechville?
For over 25 years, Tom Nechville has quietly led the "Banjo Revolution". Striving to bring out the best in banjo sound through innovation and education, Tom leads Nechville Musical Products on its mission to make banjo universal in its appeal across musical boundaries.
Tom holds patents on helical head tensioning, built-in capos, and an adjustable neck attachment. The Nechville Heli-Mount works more like a Mason Jar than a traditional drum head, reducing about seventy parts, lowering maintenance costs and solving sound and playability problems. His book, The Dynamics of Banjo Sound is a definitive guide for banjo setup and maintenance.
Being built with a modern aesthetic,, Tom's banjos have appealed to musical innovators like Alison Brown and Bela Fleck, and superstar customers like Dixie Chicks, Keith Urban, Lady Antebellum, and Zac Brown, and has also gained a strong foothold in the traditional Bluegrass world.
His passion for the banjo has taken him around the world, presenting workshops on design and technique , sponsoring major festivals, and helping thousands of players find the sound they were after.
Nechville says the banjo is held back from worldwide popularity by over-reliance on old technology. His mission to spread current technical knowledge players and luthiers is helping raise the banjo to its deserved position on the world's center stage .
Links:
http://www.12fret.com/retail/Nechville_Banjo_pg.html
Nechville Banjo Workshop at The Twelfth Fret