Posts Tagged Duesenberg
Here is a eye catching Duesenberg Star Player TV selling for $2000.
MORE

→
Who needs a muscle car when you can get this awesome looking Hot Rod style Duesenberg Mike Campbell signature model. This guitar was built for Mike Campbell to help commemorate the 13th year of Tom Petty and the Heartbreakers. This guitar is in excellent condition and ready to rock! Comes with the original Duesenberg hardshell case.
MORE

→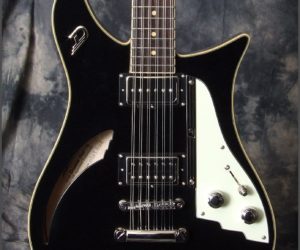 The Doublecat echoes the detailing of a British Invasion classic with better playability, more versatility, stable tuning and better construction. Let's not even get into the flawless fretwork and intonation. Okay, I admit…Dusenberg guitars had me after writing the first sentence. This lovely specimen has a cat's-eye sound hole very much like a Rickenbaker guitar yet excels with the updated electronics. The Doublecat 12 sports a PAF style humbucker in the bridge and a P90 in the neck and makes for a wide array of tonal options. The body consists of a two-piece alder body with a maple top. The bridge assembly configuration also echoes the long discontinued Charvel Surfcaster guitar (I've always been a sucker for those!!!). The Doublecat 12 really created quite a stir with customers when it graced the wall of our store. All you need to invoke those classic Brit invasion sounds is the DoubleCat 12 going through our loveable Janglebox and presto…Instant twang!!!
MORE

→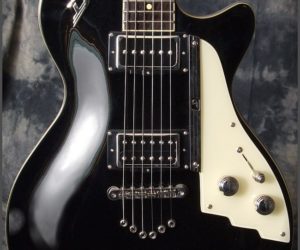 The 49'er is marriage of classic styling and bold rugged yet handsome Rock'N Roll attitude. Taking its cue from a Les Paul-style design, the 49'er incorporates a humbucker and a P90 into its electronic palette and a string through body and tune-o-matic style bridge configuration. Between these two specs alone, the tones are plentiful, rich, varied and well thought out. The bottom end coming off of this guitar is PHAT and chunky, while still retaining definition and character. The body construction consists of a carved maple top and a mahogany back. The fretwork is absolutely flawless and is courtesy of a PLEK machine. Add meticulous assembly and detailing, some way cool Z tuners and 50's Chevy style Chrome appointments and you've got a killer rock guitar built like a Panzer tank with the looks of a Porsche Panamera sedan.
MORE

→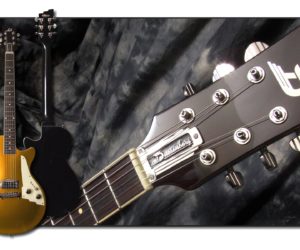 I just don't think this guitar could possibly look any better. When it comes to design and a sense of style, Duesenberg is right up there with the best! Beyond the visual appeal, the SR-52 is a very well put together machine, with excellent hardware, construction, and appointments across the board. The controls are simple and elegant. A single "Little Toaster" humbucker is connected to a 3-position selector switch, giving a great tonal variety. Moving through the pickup settings will take you from classic twang to thich, chunky bark…. all from a single pickup and some series/parrallel switching. Master volume and tone controls round out the electronic setup, giving you all the versatility you need.
MORE

→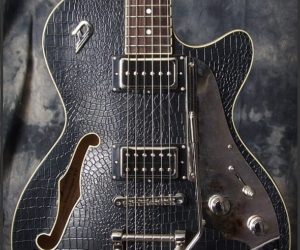 If ever there was a guitar designed for Darth Vader and Clint Eastwood, this is THE guitar. I just could not help myself with this one. I've always had a "secret" love affair with Gretsch guitars but have always been weary of taking the plunge on a guitar that I wouldn't use that often, never mind carving up the top to fit a PAF style humbucker. Enter the Starplayer TV Outlaw. Our Dusenberg rep Mike Gregory had me at the faux Alligator hide finish. (Insert long sigh here_____________). What can I say that hasn't been thought or said? Stunning looks aside; the guitar truly is a marvel of tone with its humbucker/ P90 configuration. Sporting a hollow body construction with a sustain block, this guitar is right at home with Rockabilly and Hard Rock. The fretwork, courtesy of PLEK, makes this guitar a dream to play. The addition of a Bigsby style tremolo unit adds even more mojo to this beauty. The fact that it works flawlessly makes it even more of a marvel. I'm asked on a daily basis…"Mike, which guitar is your favorite guitar in the store right now". Without one shred of doubt, it would have to unequivocally be this guitar.
MORE

→