Posts Tagged Fullerton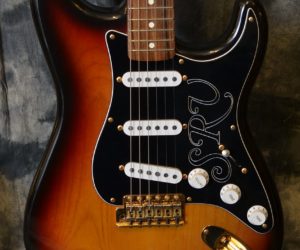 Get your summer start right with a "Cold Shot" and a SRV Fender Strat in excellent shape!
MORE

→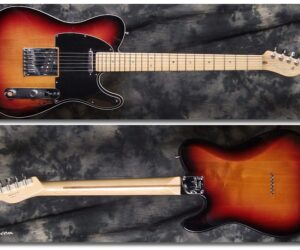 This beautiful American Deluxe Telecaster has been upgraded with a set of Lindy Fralin pickups, giving it a wonderful 'classic' Tele tone. Put that together with Fender's top-of-the-line modern hardware, a comfortably contoured alder body, and rock-solid maple neck, and you end up with one of the best workhorse guitars I've ever played!
MORE

→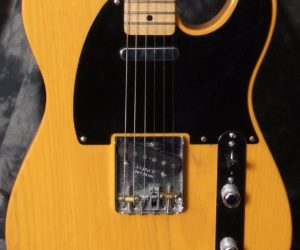 Serial Number:… SE04513 circa 2000 Neck:… Maple neck, 1.650″ nut width, 25.5″ scale length, U shaped neck profile. Frets:… Very minor wear Body:… Ash body. Finish:… Butterscotch Blonde nitrocellulose finish with three minor checks in the finish. Hardware/electronics:… American Vintage Telecaster pickups and hardware, McVay G Bender installed. Playability/Action:… Low fast action at 4/46″ bass and treble sides. Case:… Original tweed hardshell. Pricing:… $1499.99 Canadian Dollars (approx.$1508.US$ as of Feb.9/2011).
MORE

→
Serial Number:… 547006 circa 1973 Neck:… Original maple neck swapped out for rosewood years ago, three bolt neck, date has been sanded off the end of the neck. Body:… Alder body. Finish:… Walnut finish with lots of small dings and scratches, finish worn off where the right arm crosses the body, lower horn is missing a chunk of finish on the edge. Hardware/electronics:… Fender single coil pickups, Fender tuners, back plate may have been replaced. Playability/Action:… Current action at 5/64″
MORE

→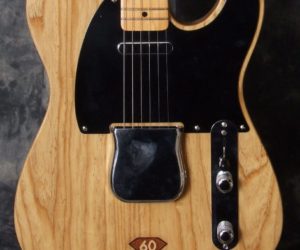 Here is a cool Telecaster from Fender's 60th Anniversary in 2006. It features an ash body, maple neck and fretboard, clear nitro finish, Fender single coil pickups and hardware, 1946-2006 Diamond Anniversary inlay on the neck plate and wood Diamond inlay on the body below the bridge. The guitar is in great shape with very minor play and fret wear.
MORE

→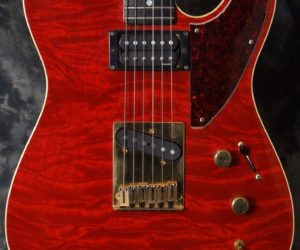 This custom design is an great choice for players looking for a Tele that has the deep, rich sustain and creamy midrange of a Gibson-style solid body. The fact that it's drop-dead gorgeous is just the icing on the cake!
MORE

→