Posts Tagged Gibson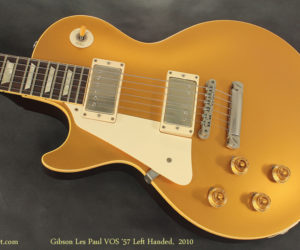 Gibson Les Paul VOS 1957 Left Handed, 2010
MORE

→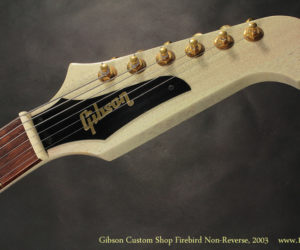 Here's a very cool Gibson Custom Shop Firebird Non-Reverse from 2003, in a 'TV White' or 'Limed Mahogany' finish.
The Firebird was introduced in 1963 in the 'Reverse' form, where the lower cutaway is longer than the top. However, due to poor sales and some complaints from Fender, Gibson essentialy flipped the body and head to this 'Non-Reverse' form. Additionally, the 'Non-Reverse' models use a set neck, rather than a through-neck, construction.
MORE

→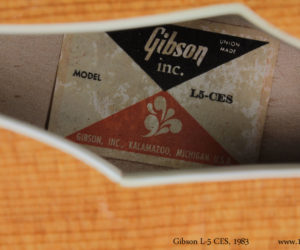 The Gibson L5 CES is a classic, beautiful guitar and is the direct descendant of the big archtops of the 20's, 30's and 40's. The CES designation stands for "Cutaway Electric Spanish".
The original L-5 was designed by Lloyd Loar, first produced in 1922 and electrified in 1951. For most of that time, the L-5 has been the top of the heap for jazz guitars.
MORE

→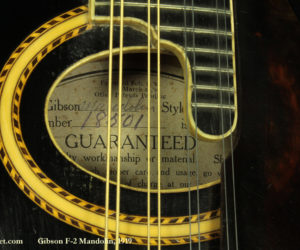 Here is a very good condition Gibson F-2 Mandolin, built during 1919.
Gibson began producing non-traditional mandolins – that is, not using the European bowl-back, flat-top design – in the late part of the 19th Century, basing this radically new design on another traditoinal instrument – the violin. The F series features the 'scroll' on the upper bout, and the fancier headstock than the teardrop-shaped A series.
Orville Gibson died on August 21, 1918 of endocarditis. Not long after, the Gibson company hired Lloyd Loar to revamp the designs, and his first models started appearing around 1922. This fine example of Gibson instrument production falls between those two points.
MORE

→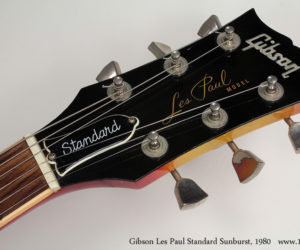 The Gibson Les Paul Standard, this one from 1980 is — well, it's been a standard benchmark guitar since people started needing solidbody electric guitars.
MORE

→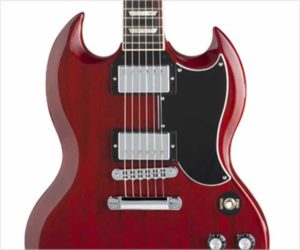 The Gibson SG Standard has been an industry icon for decades. Introduced in 1961, the SG quickly became popular thanks to its streamlined, lightweight design and rich, crunchy tones. For 2013, Gibson has made some subtle teaks to the SG Standard model, bringing it closer to the design of its early 60's predecessors. It now comes equipped with a pair of Gibson Classic '57 Humbucking pickups; clean, clear, and lush sounding, with a moderate output. These pickups combine perfectly with
MORE

→