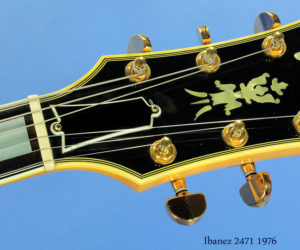 Ibanez produced a large number of good copies of popular brand guitars, and at their top end were renderings of the 'Johhny Smith' archtops. This 1976 example, the model 2471, is in good shape with a modification – the volume and tone controls, originally mounted on the pickguard, have been moved to the top.
Despite being a close copy, this is not what's known as a 'lawsuit' model. The lawsuit was over Ibanez' use of the open-book headstock shape, and by this time Ibanez had stopped using that design, opting for this shape which they still use.
This is a really, really nice instrument and is priced far below what it copies. We know of one top local jazz player who has used one of these for years.
MORE

→