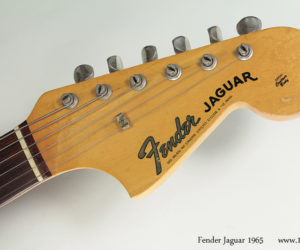 Here's a lovely Fender Jaguar from 1965, in good condition.
Fender introduced the Jaguar in 1962. Its 24.75″ scale length was intended to make it attractive to players who preferred the shorter scale of Gibson guitars — this can make complex chord voicings easier to reach.
However, the Jaguar didn't catch on much outside the Surf music community, and production ended in 1975. In the early 1990's, Fender Japan started making reissues, and by 1999 US production had resumed.
MORE

→