Instrument Categories: Banjos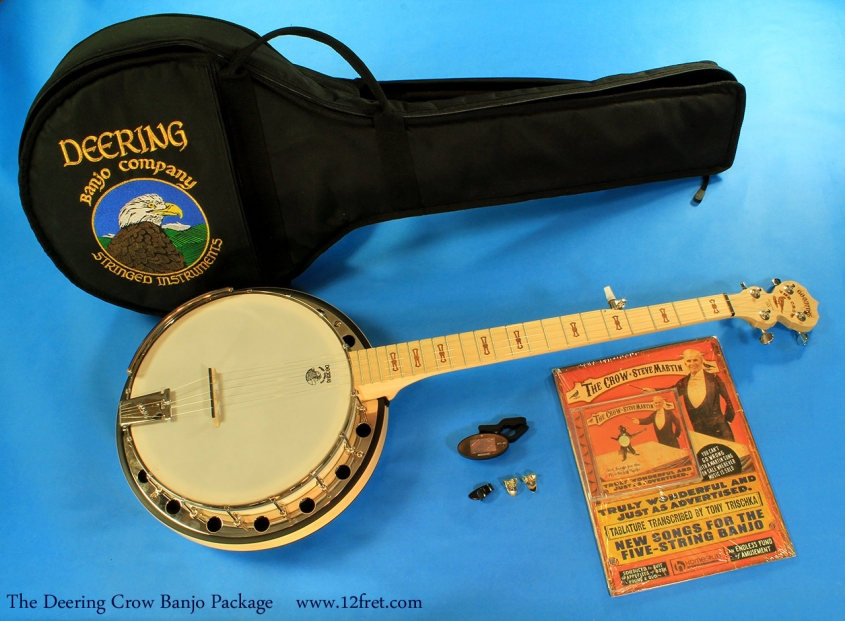 The Deering Goodtime II Banjo 'The Crow' Package is now sold out! It's been superseded by the Deering Rare Bird Alert Package
Most banjo players you meet will tell you they saw a banjo in a concert somewhere and immediately ran out and bought their first banjo.
They were hooked for life !
In 2010 and early 2011, Steve Martin allowed Deering to associate the Deering Goodtime II resonator-back banjo with the Steve Martin "The Crow" touring band.
The Goodtime II banjo is a superb starter banjo, and Deering has put together "The Crow Package" into a complete kit for any beginner.
Included in the package:
The Deering Goodtime II banjo: maple neck and rim with bow tie fretboard inlays.
Read more about the Deering Goodtime II Banjo here
Plus:
Deering Deluxe Gig bag
Set of Thumb and Finger picks
Deering electronic clip on tuner
Deering Banjo Strap
Instructional Book and CD from Steve Martin's The Crow tour
Total price for the entire package: $649.00 CAD.
Full setup is included: Nut height, head tension set at G#, capo tacks installed at 7, 9 and 10th fret, action adjusted and complete checkover. You get this banjo in fully playable condition – not just out of the box but as with all of our banjos, it is thoroughly set up to professional standards.
Note: we also carry the regular Goodtime II at the standard price of $549 but when I "do the math" on the extras included, at $649 the Crow Package is a sensible purchase and good value.
Grant MacNeill
Read more about Deering Banjos and Kavanjo pickups at these links:
The Deering Goodtime Special Banjo
---
You can preview our videos now on Our YouTube Channel!
You can now Visit our Facebook page!
Check out Grant's Banjo Setup Q&A
Year: Current
Class: New
Condition: Brand New
---
---
Contact The Twelfth Fret Regarding This Item