Posts Tagged antique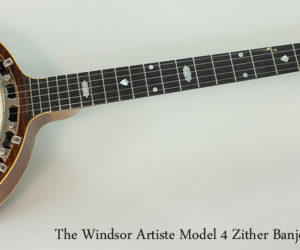 The Windsor Zither Banjo was built from 1887 until the Birmingham factory was destroyed in 1940 in a German air-raid.
MORE

→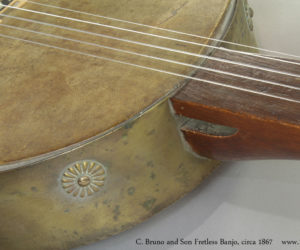 This C. Bruno and Son fretless banjo arrived here about 15 years ago and has been in storage ever since. As is often the case with my "projects", it was forgotten for years. I recently came into a lovely set of Ivoroid friction tuners that reminded me of the Bruno banjo and its need for appropriate tuners. This 130-year-old set of friction pegs were typical of the 1880s or 90s. And since they are synthetic ivory, they are legal under the CITES regulations.
MORE

→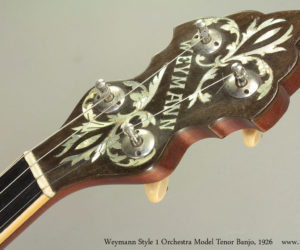 Weymann banjos were built by H. Weymann and Sons, in Philadelphia, Pennsylvania. Originally produced with the name 'Keystone' in early 1900, in 1924 the Weymann name appeared and was used until 1934. Weymann instruments are known for high-quality construction and unique features
MORE

→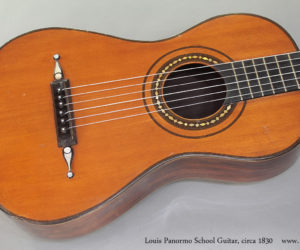 Louis Panormo was the most successful of all nineteenth-century London guitar makers. His clients included Trinidad Huerta Madame Pratten and probably Fernando Sor. He built guitars from 1822 to around 1855 when his nephew took over the business.
MORE

→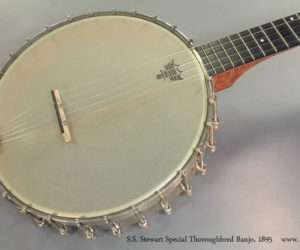 Shown here is a lovely SS Stewart Special Thoroughbred Banjo, built in 1895 and in completely playable condition. This open-back style banjo features the original tailpiece, and a period dowel stick adjusster. This is one of the few we've seen that have all the stickers and plaques complete and in place.
MORE

→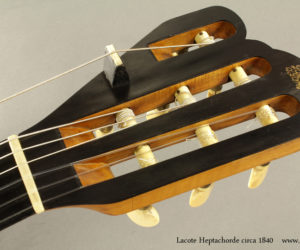 On display here is a very rare Pierre Rene Lacote Heptachorde circa 1840. Rene Lacote of Paris, Master Luthier of the Paris school of guitar makers was one of the most influential makers of the early nineteenth century. Today his guitars are sought after by both collectors and performers. Past guitarists who played guitars by Lacote include Ferdinando Carulli, Fernando Sor, Dionisio Aguado and Matteo Carcassi.
MORE

→