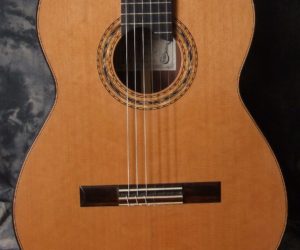 Here is a beautiful classical guitar from luthier Marcus Domenelli from Victoria,
BC. This guitar features a cedar top and claro walnut back and sides, a side port, Hauser style
bracing, 12 hole bridge and a raised fretboard. This side port improves sustain and volume by
moving more air through the box and also gives the player more of the sound of the guitar. The
elevated fingerboard gives the player better access to the upper register without changing the
traditional look of the guitar. This piece is in excellent overall condition with only minor
cosmetic wear, it plays really well and sounds wonderful!
MORE

→