Posts Tagged single cone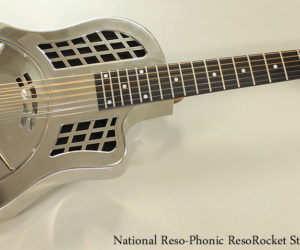 The National Reso-Phonic Reso Rocket is one of National's newly designed single resonator guitars.
MORE

→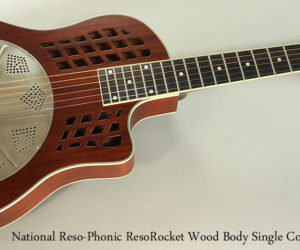 The National Reso-Phonic ResoRocket is a new single resonator cutaway guitar with a coverplate complementing the distinctive Tricone-style grille work.
MORE

→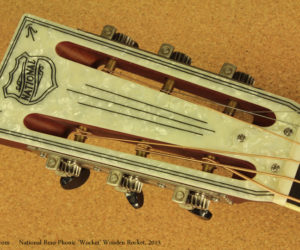 Just in – a National Reso-Phonic Wocket Wooden Rocket! This mahogany laminate version has all the features of the very popular National Reso-Rocket, but with the extra warmth and growl wood provides.
The 'Wocket' designation is limited to a very, very few instruments. Steve James refers to his orginal prototype as the 'Wocket', and the first few production models are marked as 'Wocket' on the label, but subsequent models won't carry that name on the label.
MORE

→
This single cone guitar is patterned after the famous El Trovador that was made only in 1932 and 1933. The body is constructed entirely of mahogany – front, back and sides. The body is artistically bound with multiple layer binding and the mahogany neck features an ebony finerboard bound in ivoroid. The headstock has a rosewood overlay. the body is 4″ deep and the scale length of the neck is 25 21/32″.
MORE

→
A lot of players were scrambling to find ResoLectric Jr. models when National discontinued this guitar a couple of years ago. Well, they are back now by popular demand and feature the new National Hot Plate with Jason Lollar pickup & coverplate-mounted volume & tone controls.
MORE

→