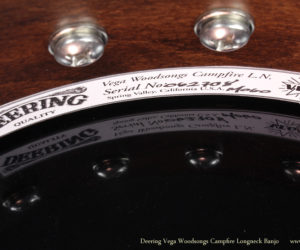 Deering Vega Woodsongs Campfire Long Neck Banjo in near mint condition with original Vega case
Playing in E on a banjo is always a challenge: that is why Pete Seeger had the long neck built for him. These are normally played with the neck capo'ed up three frets and the 5th string capo tack in use so the banjo is played in G.
But when you want to switch to the big, full bass growl town when playing in E, you simply un-capo and you are ready to rock and roll!
Built around the Vega Little Wonder model, the wood tone ring pot lends itself perfectly to the full bass tone of a long neck
We stock the Campfire model but I've never had a used one show up. This one is near mint.
MORE

→