Posts Tagged archtop
1997 Guild Starfire 4 Blonde Maple Thinline Guitar
MORE

→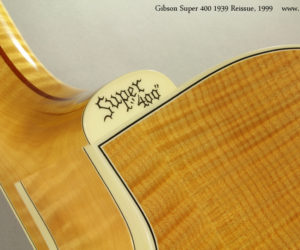 This 1999 Gibson Super 400 1939 Reissue is in near immaculate condition, with a carved spruce top, carved and very highly flamed maple back, flame maple sides and neck. There is no significant wear.
MORE

→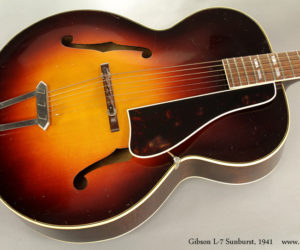 Today we have a very clean 1941 Gibson L7 Sunburst Archtop Guitar. This guitar comes with a copy of the original sales contract, to a young man about to go into the US Coast Guard.
MORE

→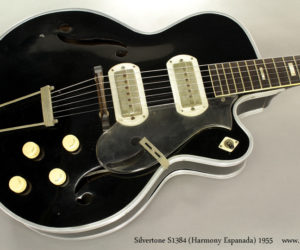 This is seriously cool – a 1955 Silvertone S1384 Archtop Guitar. This guitar is virtually identical to the 1955 Harmony Espanada model, with the difference being the branding logos.
MORE

→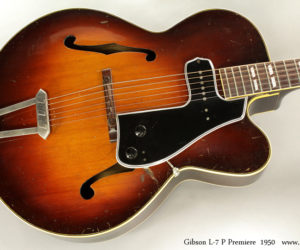 Here is a wonderful 1950 Gibson L-7 P Premiere Cutaway Archtop. Gibson was a major player in the Archtop guitar world, with Epiphone as its main rival. And of course, after WW2 the volume wars were still being fought and amplification was the coming thing for guitars. In 1948, Ted McCarty filed a patent for the pickguard-mounted pickup assembly seen on this instrument (the patent was issued as #2,567,570 on September 11, 1951) and many others dating from its introduction at the 1948 Summer NAMM show until the mid 1950's.
MORE

→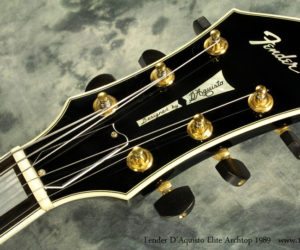 As the last of the legendary John D'Angelico's apprentices, James 'Jimmy' D'Aquisto produced some of the best, most sought after – and most expensive – archtop guitars ever made. In a 1994 agreement with Fender, Fender built D'Aquisto Elite archtops at their Terada plant in Japan. These guitars were re-issued between 1989 and 1994. This 1989 Black Fender DAquisto Elite Archtop is in pristine condition, and the black finish is quite rare.
MORE

→