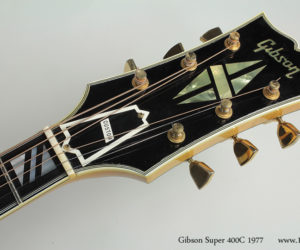 Once, giants roamed the earth's stages and the Gibson Super 400 was at the top. Introduced in 1934, the Super 400 was priced at $400 — hence the name. Still in production, the price has increased somewhat.
The cutaway became an available option in 1939, with the model name of 'Super 400 Premiere', but eventually became the C model for 'Cutaway'. In the 1950's, the Super 400 started getting pickups, with a thicker top to reduce feedback.
This rare acoustic model is in great shape and looks back to the way the top-range guitars were just before WW2.
MORE

→