Banjos
The guitar and banjo worlds collide with the Deering Eagle II 6-string Banjo!
Price: $2739 CAD
MORE

→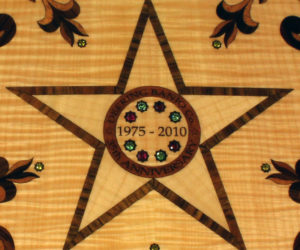 Congratulations to Deering on their 35th anniversary and the Deering 35th Anniversary Banjo.  Job well done !
Greg and Janet Deering run the premier banjo company in North American and build more banjos than all the other banjo makers combined.    This 35th commemorative banjo is the personal project of Greg Deering and he combines several of his latest technological advancements in this banjo;  the Eagle flange,  The Aught Six tone ring,  the Red-maple rim,  the Deering special alloy tailpiece; all put together to make one of the finest sounding we have heard.  And as for the looks…well… stunning, spectacular, awesome,  elegant…where's my thesaurus !
MORE

→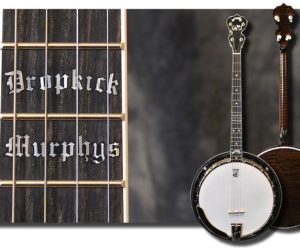 Today we are featuring the new Deering Dropkick Murphys Boston Model Tenor banjo. This tenor banjo was originally custom built for the Dropkick Murphys band and is based on a John Hartford banjo template which features highly figured maple neck and resonator with a Grenadillo wood tone ring fitted to a red maple rim with a standard Deering flange. This banjo is loud, warm and full sounding and at 6.85 pounds it is roughly half of the weight of a normal Tenor banjo due to the weight savings of the wood tone ring. This is without a question the lightest weight professional Tenor banjo we have seen!
Price: $2649 CAD
MORE

→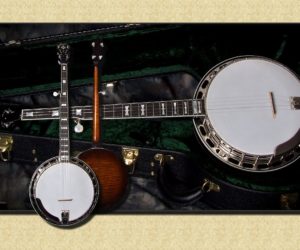 Earl Scruggs had a number of Gibson banjos: RB-75, RB-4, RB-3 and Granada banjos… but one of the more famous was an old Gibson Mastertone that had the fretboard replaced by Gibson. Earl prefers a fully inlaid fretboard and Gibson decided on the classic Bowtie inlay pattern for him.
Price: $2049 CAD
MORE

→
The Vega Tub-ba-phone banjo is unquestionably one of the most unique banjos in the history of this young and growing instrument. Touted by some as the ultimate banjo tone, it is prized for its full, round and yet sparkling tone and for its depth, responsiveness and power. For years only affluent collectors could afford Tu-ba-phone banjos made early in the 20th century and anyone who wanted one would search and pay premium prices for these coveted instruments. Those days are gone. The new Vega No.2 Tub-ba-phone is the first of a new breed of traditional style banjos that offer all the dynamics, sparkle, power, depth, full tone and more.
Price: $3989 CAD
MORE

→
The Deering company of Lemon Grove California has been one of the most respected manufacturer of high-end banjos for decades. Their Vega line of open-back clawhammer banjos are packed with features and priced very modestly.
Price: $1789 CAD
MORE

→