Posts Tagged used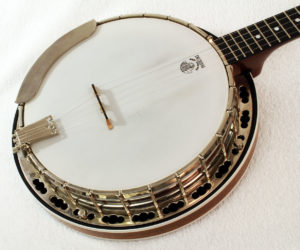 Comes with original hardshell case.
MORE

→
Wildwood clawhammer banjos feature a slightly wider maple neck, their own version of the tubaphone-style tone ring, some models with bracket shoe bands, and all with a sound and character unique to Wildwood. All Wildwood banjos are available in your choice of woods.
MORE

→
The Recording King Professional model resonator banjo combines classic pre-war style features and desirable modern touches to create the ultimate bluegrass banjo. This model features a mahogany resonator, mahogany neck, bound ebony fretboard, American Standard thread hardware, 20-hole tone ring and a 3-ply rim. Designed by Greg Rich, this model recalls the most supremely crafted banjos from the Golden Age of musical instruments.
MORE

→
We've been lucky enough to have several of Anne Hartman's handmade Banjos come through our shop over the last couple years, and I continue to be impressed by the quality and style of her instruments. This maple open back showcases some fantastic wood selection, elegant inlay design, and top notch construction in every way. Hartman's work is a perfect blend of classic design with modern building standards.
MORE

→
Today we are featuring a couple of lovely custom open back banjos from Toronto builder Anne Hartman. Both banjos feature curly maple pots with ebony rim caps and curly maple necks with ebony fingerboards. The look of these banjos are both classic and unique at the same time. The red pin stripe on the ebony binding is beautiful and the mother of pearl "Man in the moon, Shooting Star" inlay in the fingerboard scoop of the the fretless provides an elegant dreamy quality.
The five string uses a heavy mass Tubaphone tone ring which increases sustain and improves clarity and balance as you play up the neck. The fretless five string uses a light weight 'Little Wonder' tone ring which provides less sustain and the classic plunky sound perfect for old time playing styles.
MORE

→
At the 2004 IBMA show, Bob Carlin and Wayne Rogers met to discuss the possibilities of a signature model 12″ banjo. The basic features requested by Bob were a 12″ pot, scooped fingerboard, specific neck dimensions and brass tone ring. These features were previously only found on banjos retailing for $1200.00 or above!
MORE

→